RyanCordell.com
Blog
My Last 10 Posts
My Recently Played
My Photos and Videos
Blogs I Enjoy
Visitor Infomation
26.6.09
Get Rid Of The Slight Debris

This week the theme at PhotoFriday is debris. I took this photo in Daejeon, South Korea. I was walking back from the HomePlus and found this trio of randomly discarded items caught my eye. I've occasionally wondered what they story that landed this trio together.

Labels: Korea, Photo Friday, Photos
0 comments have been left. Where is your comment?
21.3.09
Put Me In Coach
I am watching the World Baseball Classic tonight. Tonight's game is between Venezuela and Korea, and right now it looks like it will be a victory for the Koreans. As someone who lived in Korea, and is a big fan of the Korean Baseball Organization, I have to say I am really enjoying the game. Well, almost. See, I am very close to turning down the sound, as the announcers sadly are proving some of the reasons a global competition like this should be held.

So far I have heard them discuss how hard it is for American baseball players, and why many of them did not want to give up more of their off-season to participate in the games. They actually bemoaned how hard it is for the players to have to spend six months on the road, often missing family and home. Boo-hoo. First off the minimum salary for a major league player in America is around $380,000 a year. Not bad for a six month gig. And sure you have to spend a lot of time on the road, but it does not take a rocket scientist to be aware of that way before you sign your contract. Every job has things about it that stinks, and if you do not like it, you are not required to take that job.

The announcers have also bemoaned how the numbers of American born baseball players in the United States is declining. They said they could not figure out why, yet in the rest of the world more and more great players are emerging. Here are a few potential reasons off the top of my head. American youth are more focused on their video games and television sets these days. Many parents wont let their precious snowflakes play in unsupervised areas like they used to, thus pick up games of baseball do not happen as often. Could it even be that we have seen many of our heroes fall from grace, and don't want to follow their lead (or don't have connections to steroids like they did)? Or perhaps as today's youth have watched ESPN they have seen the real money is at the poker tables, plus you don't have to work out as much to be a professional player in that sport.

And as for the announcer's complaints that we might be an underdog in our own sport, perhaps we should be glad we have exported at least something other countries can enjoy. I have spent many afternoons sitting in the outfield stand in a ball park in Korea. (Hanwha Eagles Fighting!) I can honestly say the fans there get into the game far more than most who attend games in the States. It is a completely different atmosphere in the stands, one that personally miss.

I am really enjoying see teams made up of non-MLBers compete and even out perform against guys who get paid millions. Seeing the Netherlands do as well as they did was a great thing. And now, the Koreans are about to finish off the Venezuelans. Makes you wonder if the big bucks are worth it?

Besides the announcers, my only other complaint about the World Baseball Classic is the way the brackets work. Korea and Japan have already faced each other four times, and could have a fifth before the series is over. They should mix the teams up a little more. How about splitting up the two teams that advance from the first round to different pools? It would give even more chances for teams to face each other, and limit the number of times two teams would face off.

Oh, and now that this is going to be a routine event, can we change the name of this to the World Series, and the other championship to the MLB Championship? Makes sense to me.
0 comments have been left. Where is your comment?
17.6.08
Every Ship Must Sail Away
In the words of Styx, "I'm sailing away, , set an open course for the virgin sea.
I've got to be free, free to face the life thats ahead of me..." Yep kids, it is about time for me to set sail on the open seas. In a few hours I board a train heading to Pusan. There I will be taken to the freighter that I will call home for the next ten or so days. There have been times when I have wondered what in the world am I doing taking a freighter across the Pacific, but then there are times when I remember why I am doing it. Because I can. I long to stand on the deck and see nothing but open ocean. I am excited to see how people used to travel to far away places. Plus, I look forward to ten days when I can get some serious reading done.

Tonight I go to bed for the last time here in Korea. I am ready to wake up for the next adventure. Figure a container ship is a good start. See you all when I wash up on the other side of the ocean.

This xkcd comic pretty much sums up my feelings right now: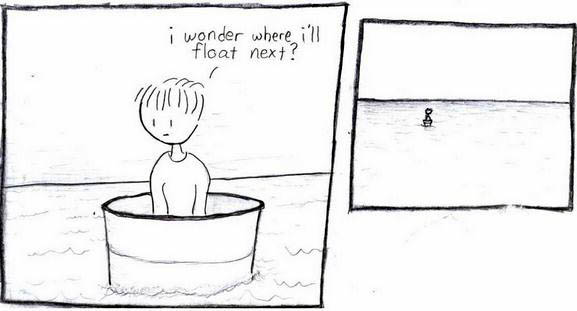 Currently listening to:

(not really, but how cool would that be?)

Labels: Freighter, Korea, My Life, Travel
1 comments have been left. Where is your comment?
13.6.08
Take Me To The Subway


Movement is the theme this week at PhotoFriday. I took this photo this week up in Seoul. I spent more time on the Seoul subway this week than I might have in the last two years. If I am right, I was on it for over three and a half hours on Tuesday alone. I am heading back up tomorrow for one last visit before my boat leaves this country in four days.

Labels: Korea, Photo Friday, Photos, Travel
0 comments have been left. Where is your comment?
2.5.08
Wrestling With My Conscience


My Little Secret is the theme at PhotoFriday this week. I am not sure if my secret is that I still owned this shirt until about a week ago, or that I still occasionally watch wrestling. The best/worst part about it is that here in Korea there is a channel that shows WWE at least once a day. I think I've watched the Ric Flair farewell address about five times this week. I think I have said too much, and should stop there.

Labels: Korea, Photo Friday, Photos, TV
1 comments have been left. Where is your comment?
22.4.08
I Break From The Crowd
Last Thursday I took the train up to Seoul to catch Duran Duran. It was the first time in almost twenty years that they were playing South Korea. I figured that they would be a great band to see as my last concert here in the ROK. With that in mind, I scored a ticket in the standing area right in front of the stage. In fact, it was the sixth row of the standing section. Wrap your head around that concept.

So I get to the Olympic Park Gymnasium and pick up my ticket. The security guards then directed those in the standing section to proceed to one side of the venue. Now here is the part of Korean concert going that I will never understand: They then lined us up by ticket number. The standing section of most of the concerts I've attended in North America and Europe are first come first served. Yet here in a country that still struggles with lines at the grocery stores, they have people line up like those crazy "get to know you" games at camp. "OK, this time everyone line up by height. Next by reverse alphabetical order of your middle names." Security guards spent the hour before the doors opened making sure that people were in numerical order. Once the tickets were taken and the doors opened, it was all a waste as people just rushed to the spots nearest to the stage. My long legs, quick stride and determination allowed me to find a spot on the front row.

Now another aspect of the oxymoronic aspect of entertainment here is that you can buy bootlegged DVDs on many street corners, yet they are fairly strict about taking photos at some concerts. Four or five guys, who I guess might be drop outs of the military, were stationed in the front to crack down on cameras. They would scan the audience looking for the metallic shine or unfortunate flash. For some like myself and the guy next to me it becomes a game. The goal is to see how many shots you can get without being noticed. Needless to say, I think I won this concerts game. Although the dude next to me with the SLR wins top prize for both most photos and largest camera used categories.


For those wondering about the show, I'll just say it was everything I expected. They busted out all their hits, as well as the newer stuff. I actually really enjoyed some of the new stuff, even if Timberlake's name was dropped as a co-writer of one song. I was a little worried when I heard that they had forgotten some lyrics at a previous show. I can report they didn't forget the lyrics, just forgot the order. As they closed out the show with "Rio" it sounded like they were trying a round as Simon sang "Her name is Rio and she dances on the sand" while John was busting out, "Her name is Rio she don't need to understand." I'll cut them some slack, as they are pushing 50, have recorded over twelve albums, and the song they were singing was older than some of my coworkers.

Currently listening to: Duran Duran -
Labels: Korea, Music, My Life, Photos
1 comments have been left. Where is your comment?
20.3.08
Orion's Belt Is Shinin'
What a post that does not just include a photo with a short story? Yep, it is true, I have decided to post a little entry. I guess lately I just have not felt the stories of life have been worth posting online. Or have there been any stories at all?

But today I had a couple funny moments I thought I would share. Today has been a busy day, as I am about to leave for a week long trip to the Philippines to work with Habitat For Humanity. I also was hoping to get my taxes filed, and a few other tasks done. After doing laundry, I began to pack. During this process I decided to dress for the day. Figured I have plenty clean clothes to pick from. Unfortunately, I could not find my belt. I looked everywhere, but no luck. So I had to use a different belt. Skip ahead to a few hours later when I needed to use the facilities. I undo my belt, only to discover my pants did not loosen. Guess what? I found my other belt.

This afternoon we also had to escort the students to the train station, as the dorm staff does every weekend. As we left we got into a taxi cab, and gave him the location. He asked again, which usually is not a big deal here. We told him, and then he started entering it into his GPS device. The cab driver behind him walked up and asked him where he was looking to go. When our cabbie said our location, the other driver began to belittle him, explaining where it was, and listed every place in the area as landmarks. Our driver finally found it on his map, and tried to start the car. Surprisingly, it would not start when the gears were in the drive position. When he did get it started, his GPS unit reset itself. He began the tedious task of reprogramming the location. By this time, we could have made the trip twice. So I suggest we jump out and grab the taxi behind us. My coworkers said they would join me if I did, which is all I needed to hear. A few seconds later our new cab driver was telling us the other guy had only been driving five days. He had a good laugh about the whole thing, as did we. Ah, good times in foreign lands.

Perhaps I will bring some good stories back from the Philippines. I will at least bring back some photos and plenty of dried mango. Mmmmmmango.

Currently listening to: Bon Iver -
Labels: Korea, My Life, Travel
1 comments have been left. Where is your comment?
14.2.08
Sweet Comic Valentine
A belated happy Valentine's Day to you all. You got to love a day celebrating the patron saint of love and the plague. Oh, and bee keepers, St. Valentine is the patron saint of bee keepers. So why do we give flowers and not honey on this glorious day? Sure bees travel from flower to flower, but the honey is where it is at. I guess as long as society does not start celebrating with the giving of disease ridden rats, we will all be fine.

Speaking of odd things Valentine related, Law And Order: SVU Valentine's Day cards might be one of the worst ideas. A show revolving around sex crimes is not the best idea for expressing your love.

By the way, here in Korea they show LaO:SVU is on two different channels. You can actually see three or four episodes a day.

Currently listening to:
2 comments have been left. Where is your comment?
18.12.07
Now That It's Out
Last week I was excited when I discovered that Once was coming out on DVD here in Korea the same day it was being released in America. This has to be one of the best films I have seen in a while, and I was planning on having the folks ship it to me. But if I could get it sooner, even better. So I had one of my students check the Korean websites just to make sure I was right. He told me he could just download it for me. After a little explanation about how I do not agree with that, plus want to physical dvd, he found that I was correct.

So this morning I was set to wake up and head to one of the local DVD stores to see if they had it. Well, morning disappeared before I got out of bed. But once I got up, I headed out fully intended to head to the store. I was then distracted by some friends watching the Monday night game. After it was apparent that Chicago was going to lose, I headed to the store. I walked in looked around, and figured it would be best to go straight to the counter. Showing a paper I printed off the Korean website about the DVD, I proceeded to see if the movie was in stock. She smiled and grabbed a copy of it from right in front of me. She then walked it up to the checkout counter. I got the feeling she had not even entered it into the system yet, as she was still putting pricing stickers on them when I showed up.

I headed home, hoping to put it into the DVD player. Alas, upon my return, I discovered a package from home with the Commitments. Seeing that I have been waiting a while for that one, I popped it into the player. Once can wait one more day.

Either way, these Irish films are getting me excited about the upcoming trip. Eight days from now I will be back in Dublin.

Currently watching:
Labels: Korea, Movies, My Life
1 comments have been left. Where is your comment?
18.11.07
Just An Advertisement
It has only been three days since my post on Korean television, and I have already seen Charlie And the Chocolate Factory and Spiderman 2 being aired again. Surprisingly, I do not watch a whole lot of television. At least here in Korea, like in Europe as well, commercials do not always break up shows, but are mostly shown before and after the program. Sure you have to put up with about ten to fifteen minutes between shows, but at least it is not breaking up the story line of your favorite show. And once in a while you actually get good commercials. This is one being shown in repetition for Samsung's Anycall cell phone. It actually works as a stand alone music video, complete with a 1984 storyline. Enjoy.



You can also watch it with English subtitles, but I would recommend doing that after watching the original.
2 comments have been left. Where is your comment?
15.11.07
My Baby Loves The Western Movies
I just finished watching Charlie and the Chocolate Factory on television. If I want, I can probably watch it another five times in the next couple weeks. That is the interesting thing about Korean television. I am constantly amazed at the movie selection, let alone repetition over here. Last week I was walking back to the dorm with a coworker, and we were joking about what movies we would be able to watch in the afternoon. He had mentioned that Spiderman was already on that morning, so I guessed that Spiderman 2 might be on. I ended by saying that at least we should have a strong chance of some Lord of the Rings. About five minutes later, he called me to let me know that I was correct. As I flipped to see the Hobbits on their quest, I was shocked to pass over Peter Parker saving Mary Jane from a car flipping through the coffee shop.

Each month it appears that they add one or two movies to the rotation, but for the most part I can almost bet on seeing Hellboy, The Rock, Sahara, one of the Blade or Final Destination series, or Love Actually at least once a month on television. This month they've tossed the Transporter into the mix, and I've already seen parts of it at least five times. Don't get me wrong, I find comfort knowing I can turn my television on and be able to see a Steven Seagal, Jean Claude Van Damme, or Jackie Chan film.

And it isn't just movies that are on constant repeat over here. If you enjoy Sex In The City, CSI (any of them), Law and Order (all except the original) America's Next Top Model or The Nanny you should pack your bags and head this way. Any of these can be seen at least once a day. Toss in a little Airwolf and Kung Fu and life is almost complete.

And people wonder why I would even consider leaving this place.

Currently watching:
2 comments have been left. Where is your comment?
18.10.07
I'm Waiting In Line
If you are a frequent reader of this blog, you know I enjoy the Korean baseball. It is playoff time, and the local team made it into post season play. The playoffs in Korean baseball are done differently than American baseball. Here is the basic version of how it works. The top four teams make the playoffs. The fourth and third place teams play a best of five series. The winner of that then plays a best of five series against the second place team. The winner of that goes on to yet another best of five series against the top team in the league.

Last night was game three of the second series for the Hanwha Eagles. They had been beaten twice by the Doosan Bears, so it was looking like this could be the last game of the season for the Eagles. I decided it was worth switching my days off to catch it. The only problem was that it was estimated to be a sold out game, and I did not know how to score tickets.

I checked with two different people to see if they knew anything. One got back to me informing me that tickets went on sale at three in the afternoon. I headed over to the stadium an hour earlier to get in line. On the way another coworker called me to let me know that the best way to see the game was probably on television, as I would probably not be able to get a ticket. Not being one to give up easy (as the many restraining orders are evidence), I decided to give it a shot.

I am happy to say that not only did I get a ticket, but I got six. This might not be a big deal to most, but it really is. See, they were only allowing two tickets per person at the ticket window. They had signs up stating this policy, but unfortunately they were all in Korean. After I got my first two tickets, I decided to get back into line. As I approached the window, I noticed they were stopping a guy. From the gestures, pointing, and tone of voice, he had already gotten his two tickets, and they were not letting him get more. I was a little worried, as I have a tendency to stick out in a crowd of Koreans. Luckily for me, I was able to get two more, get back into another line and score two more.

The best part of the ticket buying occurred while I waited for the ticket counters to open. As the lines grew longer, an older man walked through selling dried squid. Soon one of the stadium staff tried to get him to leave, as he was not allowed to sell in that area. The squid seller began shouting and waving his squid around. For about ten minutes he created a scene yelling, running around, and even selling some squid to the occasional person sympathetic to his cause. As I watched, I wished I understood more Korean. Yet at the same time, I enjoyed making up my own dialog for the argument. I could just hear him yelling, "But the people want their squid! You can't keep the Squidman down! " About ten minutes after the police escorted him away, he was back hawking his squid.

All in all, a good day of waiting in line, followed by some fun inside the stadium. But I'll save that for the next post.

Currently listening to: Ken Oak Band -
Labels: Korea, My Life, Photos
1 comments have been left. Where is your comment?
5.9.07
Hasn't Stopped Raining For Days
Friday I linked to the Youth Group song, "Start The Day Tomorrow." When I looked out the window this morning the first lines of that song came to mind:

The summer rain is falling like its never going to stop, it's been ages.
Puddles form on city corners, businessmen they leap between the edges.
Umbrellas take up battle spots but nature's fury always proves much stronger.
I've been sitting in my room wondering if I'm going to last much longer
The forecast tells me that there is at least four more days of rain ahead. I am sick of rain. I am weary of dodging puddles and streams flowing down the street. I'm tired of carrying an umbrella. I want a rainbow to tell me that this too will pass.

In my radio days, I would humor myself and hopefully my listeners by playing rain based songs. So in that spirit, I made an iMix, I like to call, "Rain Rain, Go Away." Give it a click and a listen.

If it does not stop soon, the only joy I could get out of this rain is if it turned purple. Purple rain, purple rain, I only want 2 see u , I only want 2 see u in the purple rain.

Currently listening to: My "Rain Rain, Go Away" iMix
2 comments have been left. Where is your comment?
16.8.07
Driving Down To The Sidewalk
Earlier tonight a few of us were discussing the insanity that is driving in Korea. Some might think it is just a stereotype, but I have seen how those stereotypes are founded. Even today I watched from the front seat as my cab driver clearly ran a red light, and not just a recently changed one. Unfortunately this is not uncommon in my experience. This is why I haven't purchased a motor scooter, and why my bike has spent a good amount of time in the storage closet. I still keep an eye out for the car with a me sized dent from my bike accident.

As I walked home tonight I noticed a few people gathered around a car parked on the sidewalk. At first I thought it had broken down and they were trying to fix it. Upon closer examination, the car was jammed up against the tree and the was a man trapped under the car. I stood watching the crowd size increase as more people came out to see what had happened. From what I could gather the car had driven up onto the sidewalk for some reason and began to do some damage. It collided with a large crane game which ended up over a hundred feet away. Sixty feet from where the car ended up where a pair of shoes that I assumed belonged to the guy in socks pinned under the car. Before I headed back to work in the dorm, I watched officials load three or four guys into the ambulance and at least one guy into the police car. As I walked back it dawned on me that if I had started home a few minutes earlier, it could have been me riding to the hospital tonight.

Labels: Accidents, Korea, Photos
2 comments have been left. Where is your comment?
13.6.07
Boredom Lines The Shelves
Wayne Campbell once said, "I thought I had mono for a whole year, but it turned out I was just really bored." The last couple days have had that feeling for me. I'm not complaining, but just coming to the conclusion that life without students around can be very boring. I have barely left the apartment in the last 50 or so hours.

I did get out yesterday to go to the bank. I do enjoy living in a country where I can walk into the bank and ask the teller to take a couple million out of my account.

I have also cooked a couple good meals for myself. While I appreciate having ladies who make most of my meals, I miss cooking on a regular basis. So if anyone reading this is getting a visit from me this summer, I'm willing to cook a meal in your kitchen.

Last night "Cool As Ice" found its way into the DVD player. It is probably a safe bet none of my readers have seen that film and/or will admit it. After watching it, I can honestly say it actually is better than I remembered. Sure it is a bit cheesy, but what do you expect? Go out and find a copy for the weekend.

I leave you with the wise words of John Van Owen, "It is not where you are from, it is where you are at."

Currently listening to: Jonathan Rundman -
Labels: Korea, Movies, My Life
0 comments have been left. Where is your comment?
11.6.07
Fun Is The Thing I Am After
Last Friday, I posted that I was going to see Boney M. in concert. I am guessing that the reaction from most was either questioning who Boney M. is or laughter. What I failed to mention is that this is not the first time I have seen them live. In fact they join a short list of bands I have seen on more than one continent.

My friends and I arrived before the show to pick up the tickets. As I have had difficulty with reserved tickets before in the country, I was not too shocked to have to hassle and wait for my tickets to be found. But when the finally found them, there was my name right on the tickets. I tried to pass it off to my friends that I was listed as "Special Guest," and would be the opening act. They did not buy it.

As we entered the venue, someone referred to it as a large "hangar" with a bunch of lawn chairs. The chairs had been set up in sections, and we were in the cheap seats in section "J." At first I thought it was odd that we were sitting in plastic chairs, but the benefits of those chairs were soon to be discovered. As soon as the house lights went down, many around us picked up their chairs and moved forward. Soon section "J" was somewhere around the middle of section "D." When in Rome...

As concerts go, it was a rather enjoyable one. Boney M. played all their hits, save Mary's Boy Child. It was rather interesting to hear the translator explaining the banter between songs, or encourage people to sing along using words they do not teach in SAT hagwans. During the encore, the band encouraged people to get a little closer to the stage, so I abandoned my relocated lawn chair. I made it right up to the stage, where at one point my friends claim Liz Mitchell was singing directly to me.
After the show the group was kind enough to hang out and sign autographs for the fans. A couple of us stuck around and talked with them for a little bit, about life in Korea, working here, previous Boney M. concerts we have attended, and linguistic differences of North America. All in all a pretty good show.

Here is a video clip from the start of the show.




Currently listening to: Boney M. -
Labels: Korea, Music, My Life, Photos, Video
1 comments have been left. Where is your comment?
14.4.07
Hit The Ball And Touch 'Em All
I was flipping channels last night when I caught a report about the Korean Basketball team. Although I lack the basics of understanding the language, I was able to figure out that one of the foreigners playing in the league might be in trouble for some on-court violence. Today I read that Pervis Pasco has been kicked out of the league for good. One news source is referring to it as the "Pasco Incident," not to be confused with the "Pasco Curse," which unfortunately is also attributed to the same player.

Makes you wonder what the NBA would be like, if they took such a quick and serious approach to unruly players.

Speaking of Korean sports, baseball season is here. I was at the game tonight, and plan on catching quite a few more this season. It helps when tickets are 6000 Won and the price of food is the same as it is in the real world. The local team has a new center fielder. Jacob Cruz, has been a Giant, Tiger, Red, and Indian, but now is the newest member of the Eagles.
The interesting thing about Korean baseball, and most other sports over here, is that they only allow a couple foreigners on each team. In baseball there are only sixteen players in the league of eight teams. Now, I have no problem with this concept. I think it allows for national talent to be developed and encouraged. Yet, again I wonder what American sports would be like if they did this. What would the MBL be like if only two players from Venezuela, Mexico, or Japan be like? How about a hockey league with only a few players from Eastern Europe? And don't get me started on curling.

Currently listening to: Andrew Bird -
0 comments have been left. Where is your comment?
8.2.07
Hanging Out In The Donut Shop
I think it was the famous poet D.L. Roth who once said, "Give me a bottle of anything, and a glazed doughnut... to go." Following that line of thought, I woke up this morning, gathered a posse, and headed to the grand opening of the first Krispy Kreme in Taejon, South Korea.

We arrived shortly after eight, hoping to grab some of those sweet sugar rings and head back to campus. Unfortunately, we forgot to check opening time. The workers were busy wiping down seats, cleaning windows, and driving around their Segway. We thus assumed that around nine we would be released from our spot in the rain soaked line and allowed to enter into the promised land. Sometime around nine thirty we gave up hope on getting in during that hour.

Shortly around ten the activity picked up, as did the rain. All of a sudden the Star War's Main Theme began pouring out of the sound system. It was go time. The employees cut the donut decorated ribbon, confetti was shot out of cannons, the "Hot and Now" sign was illuminated, and the doors were finally opened. As we filed in, I was personally greeted by one of the employees with a hand shake and a, "Thanks for coming." But there was no time for chit-chat as we had a teacher that needed to be in class in a half hour. Not to mention donuts there were donuts to be consumed. So we grabbed over eleven dozen donuts and headed home.



And being the first Caucasian to consume a donut in the store wasn't enough for me. I had to go back to help with the closing of the store. Tonight we topped the evening off with a special birthday donut run. It was another chance to take some videos and photos, as well as to load up on more sugary goodness.

Well, it is now time to slip into a sugar induced coma. I think if I blew my nose hard enough Krispy Kreme glaze would come out right now.

Currently listening to: Tonic -
Labels: Friends, Korea, My Life, Video
0 comments have been left. Where is your comment?
5.2.07
It's Vocation Or Vacation
Sometimes I am reminded how sweet a job I have. This weekend, I actually got paid to ski in the Korean Alps with some of the students. We spent the day at Oak Valley, the newest ski resort in South Korea. Being new, the slopes were fairly empty during most of our time on the hills. Although by the end of the day, it became a contest of trying to get down the hill without knocking down a national. But as the saying goes, a bad day on the slopes is better than a good day in the office.

Then this morning, as soon as I sent the kids off to school after breakfast, I sat down to watch the Superbowl live on the dorm's big screen television. To fully enjoy the game I had to turn the volume down on the television, and pick up the English play by play on the internet. Unfortunately, the only broadcast that I could get for the first half was from the England. Thus I got to hear commentators compare Devin Hester to Diego Maradona and refer to the pile of players trying to recover a fumble as a "scrum."

And for something completely different, I find this ironic.

Oh, and my friend has posted a sweet video of our time in Michigan.

Currently watching:
Labels: Korea, My Life, Photos, Travel, Video
1 comments have been left. Where is your comment?
20.1.07
Shake It Up
It might be too soon to find any information online, but I think we just had a small earthquake here in the Korean peninsula. Shortly before 9 pm, the room started shaking, and I know for a fact I was not drinking. I was sitting in the office playing some cards online, and thought my chair was acting in a way an office chair usually does not act. Confused why it would start wobbling, I began to look around and noticed the door also swaying a little. Some students also confirmed that they noticed the movements, otherwise I would think I was crazy.

OK, a quick update - there is still nothing on the USGS site of recent earthquakes, but I received a text message on my cell phone telling me there was a 4.8 quake 105 miles northeast of where I live. The odd thing is that I'm the only one in the dorm who got a text message (or bothered to read it, as I've found out.) from the "tragedy alarm center," as one student called it.


Currently listening to: Calexico -
1 comments have been left. Where is your comment?
6.11.06
Walking Round The Room Singing
This is a great weather week. Yesterday I was awoken by an amazing thunderstorm. Last night I walked under a perfectly clear sky complete with a full moon. Tonight as I head to my bed it is snowing outside my window. Too bad it isn't sticking, as I would be tempted to have a snowman standing by the back gate to welcome all to school. Alas, there will only be two or three of us who actually were aware snow was falling tonight.

Tonight I went to see The Prestige. I'm telling you this has to be one of the best movies I've seen in a long time. I highly recommend, and that is all I am going to say about this film. Wow, I just got a feeling of deja vu.

In other news, I work with some crazy people. I have the text messages to prove it.

Currently listening to: The Perishers -
Labels: Korea, Movies, My Life
0 comments have been left. Where is your comment?
24.10.06
It's Better To Burn Out
So last night I took a walk over to the local batting cages. On the way I saw a shooting star fly over campus. For a brief period of time all the lights of this city did not compare to a piece of rock burning up overhead. As I walked on several thoughts went through my head. I wondered how many others even saw it. I thought of my friend who claimed they have never seen one. I made a childish wish that I doubt will come true. I even began to compile a list of my favorite shooting stars I've witnessed.

As I arrived at the cages, there were seven college students in various stages of inebriation cheering on their friend in one cage. I stepped into the open cage, dropped the coinage in the slot, and grabbed the bat. As I started connecting batt to ball, the two guys in the cage next to me stopped and watched, as did the rest of their posse. They began to gasp, cheer, and yell out things like, "home run," "very good," "teach me," and "McGwire." (Funny thing is that my students in the states used to call me McGuire.) When my turn ran out, I turned to see three girls' faces pressed up against the fence, chanting "go again." I dropped another coin in, and put on another show. Sometimes a guy just needs a little boost to the ego.

Currently reading:
Labels: Korea, My Life, Random
0 comments have been left. Where is your comment?
16.10.06
In An Air Raid Drill
Today Korea started testing air raid drills again. For fifteen minutes alarms were sounded, announcements were made on speakers around town, and fighter jets flew over head. For those of us who had no clue what was going on it was a rather tense time of worrying about how soon the radiation cloud would appear. Oh who am I kidding, I actually found out about the drill from an email a few hours later. This afternoon while people were exhibiting their disaster awareness preparations, I was deep in napland, dreaming away, oblivious to the world around me.

In other news, the Chinese are claiming they are building fences along the border with North Korea. To think that just a couple weeks ago, I was right there, filming stupid videos and joking about swimming across to North Korea. Should I be concerned that eight years ago, I traveled through a civil war in Europe that six months later escalated to a major war, and now I've stumbled into another hot spot?

Currently listening to:
Labels: Korea, My Life, Travel
0 comments have been left. Where is your comment?
19.9.06
Red, Gold and Green
Tonight I sat down to write a post about some of the crazy things that have been running through my head the last couple weeks. You would be reading about some interesting events and funny phrases I have heard, like "Milky Milky." But instead I decided to post a video of some green creatures I saw downtown Monday night. Enjoy!





Currently listening to: Barenaked Ladies -
1 comments have been left. Where is your comment?
24.4.06
Taking A Break From All Your Worries
The last couple days I have been doing some searching and exploring. Quoth Bono, "I still haven't found what I'm looking for." But in my explorations I did discover a place that could rival my discovery of the Isle of Innisfree years ago. (By the way, anyone want to make a trip to the Isle in July?) For in my wanderings I discovered a coffee house to call home. This place not only has some dang good hot and cold chocolate beverages (me no drinky the coffee), but they already greet me by name. And perhaps in the end that what we are all looking for anyway.

And just like my previous discoveries outside bubbles, the same rules apply:

1.

Cordell will show you were it is, but you buy the first drinks.


2.

No work talk will be allowed.


3.

You must seek permission before telling others about the place and location.


4.

NEVER, NEVER tell the dorky guy who will end up taking his freaky fiance for dinner. Which then causes me to circle around in the parking lot until they leave.


5.

Breaking any of these rules will caused you to be shunned and not told of any other cool locales Cordell might find.


In other news, this shocked me when it appeared on my personalized Google homepage.

After refreshing the page, the weather was back to the 60s with rain soon. Look close enough and you discover things like the last three words of the day: rebarbative, agog, and itinerant.

Song to go along with this post: David Wilcox - Glory
0 comments have been left. Where is your comment?
14.3.06
Root, Root, Root For The Home Team
Well, a few months ago I mentioned the World Baseball Classic. In that post, I mentioned that I would probably root for Korea when the games came around. And today I did. Several of my students were concerned when it looked like the lone American in the room might see his country lose. I told them I was hoping for a Korean win, as I've been to more Korean baseball games in the last ten years than American games. Plus it is great to see players who make millions of dollars a year, lose to players who start out at twenty thousand dollars a year. Is it time to renegotiate some salaries downwards???

Speaking of Korean baseball, four days until the Hanwha Eagles, who's coach is currently managing the Korean team, play their first game of the year.

In other news, it was White Day over here. And boy was I shocked, when I found out it isn't a celebration of the white man. Guess it is one of many days to celebrate one's love for the opposite gender and/or sell stuff.

Currently reading:
Labels: Korea
1 comments have been left. Where is your comment?
9.3.06
But Friday Never Hesitate
Can't find all my notes
Written for Haiku Friday
Guess I'll make some up.

The note on the ground
Almost all in Korean
Said "self-handclapping."

In a rough tough week
Simple things can bring my joy
Like an ice cream cone.

Forty minute walk
Hoping for a subway ride
Somebody was wrong.

Yanni's new record
Does not have any soft hits
So says his girlfriend.

Winter Olypmics
Needs a little excitement
Could it be on Hoth?

Currently watching:
Labels: Haiku Friday, Korea
1 comments have been left. Where is your comment?
4.3.06
Going Deeper Underground
Today I was in need of some excitement, and I excitement was provided. When a coworker inquired to activity this afternoon, I declared we needed to have a random adventure. We conned another friend to join us. It was decided that we would grab the first bus and get off at the sixteenth stop the bus made. Once on foot, we flipped a coin to determine which direction to head. All of this was to help search for food, while providing for a break from the regular trips to the same old places. After about eight flips of the coin, we declared it time to eat. We ended up having sweet meal in the most unrestaurant looking place. It looked more like someone's home, both inside and out.

After eating, we started walking towards Carrefour. At the corner we passed by one of the new entrances to the Daejeon Subway. As many of you might know, I'm quite excited about this soon to be opened subway system. I've been anxiously awaiting my first ride under this fine city. Well, the excitement couldn't control the urge to go down to look around, especially as the security gates that usually block the entrance were open.
Craig agreed to stay above ground as the look-out, as Chris and I descended down the well lit entry way. In stealth like fashion, we made it down one flight of stairs, then another. As we looked around this area, Craig suddenly appeared. (This proves Craig stinks as look out!) We started down the final staircase leading to the ticket windows, but midway down noticed three workers in said ticket area. So we quickly returned to the next level.
At this point, Chris decided to become the first panhandler in the subway.
Shortly after this photo, we started our ascent to the surface. One of us, noticed that the escalator was one of those fancy ones that only operate when one approaches it. As he wanted to be one of the first whities to ride the escalator, he moved towards it. While the escalator did start up, it was accompanied by a loud announcement that echoed throughout the empty cavern. Not knowing enough Korean to understand what was being said, and fearing the worst, our ascent to the surface was quickened. As we neared the surface, we made what could be considered a safety stop in a non-diving sense. We slowed our pace as to not cause any attention, at least no more attention that three white boys coming out of a unopened subway would warrant. Then we casually walked away from the subway opening and off across the park, laughing about what had just occurred.

Fifteen minutes later we passed the intersection that is above the section of subway we were in. The cab driver pointed out that the power was out to the traffic lights. Coincidence, perhaps?

Currently listening to: Tim Finn - Subway Dreaming


Labels: Korea, My Life, Random
1 comments have been left. Where is your comment?
26.2.06
Just A Matter Of Taste
Today, an acquaintance of mine and I took off on our bikes for a Sunday afternoon ride. We started off along the river, but the head wind was so strong the surface of the river appeared to be flowing upstream. So we decided to do some urban riding and head to Walmart. Walking around a Walmart in a foreign country is like going back to visit a home you used to live in. It has a familiar feel, but there are a lot of different things on the shelf. Plus in both cases you can't just take things out the front door without the police being called. Trust me on that one!

Well, today's big find at Walmart was the fish. Now, fish is a favorite meat over here, and I've seen the large fish sections in the stores before. I just never saw the "Large Fish" section.


On the way back from Walmart, we decided to stop off for some gelato. I've posted about this fine gelateria before, and probably will in the future.

Due to a lack of long term goals, I've made one goal to sample every flavor they offer at the Terre De Glace. While most might think that could be easy, think again. It is not a challenge for the weak stomached. Today I bit off two of potentially the oddest flavors, Cheese and Sweet Potato.

To tell you the truth, it wasn't that bad. Tasted like frozen sweet potato and cheese. And as a combination of flavors, it worked. I just fear the day that the only flavor left is banana.

Tonight I want to leave you with some helpful information on how to launder 50 million British Pounds. Don't say I didn't give you anything.

Currently reading:
3 comments have been left. Where is your comment?