RyanCordell.com
Blog
My Last 10 Posts
My Recently Played
My Photos and Videos
Blogs I Enjoy
Visitor Infomation
16.4.10
Big Wheels Keep On Turning


PhotoFriday this week has the theme Wheels. This is timely, as a couple days ago, my beloved 1989 Toyota Camry passed the 200,000 mile marker. That is around 8 trips around this planet we travel, or .8 of the distance to the moon.

Labels: My Life, Photo Friday, Photos, Travel
1 comments have been left. Where is your comment?
12.2.10
Another Brick In The Wall
Olympic fever is catching on. In a matter of minutes the official torch will be lit. I'm a little upset I didn't make some plans to head to Vancouver for these events. I am a bigger fan of the Winter Olympics, plus I have a good number of friends up there that I would love to hang out with again.

And while I will not be physically be there to watch the events, my face will be looking down over Vancouver during the games. How is that you ask? Have I developed that top secret satellite I have been working on? No, not yet. But my face is one of over 13,000 on the Molson 2010 Mural. A wall of faces that help celebrate the spirit of the Olympics.



My face has coordinates 50,8 on the big wall, if you want to look it up.
While it is not as cool as being on a wall at the Elsinore brewery, it is still an honor to be one of the many.

Labels: Humor, My Life, Photos, Random
0 comments have been left. Where is your comment?
29.1.10
We Spotted The Ocean

PhotoFriday's theme this week is distant. Here is another shot from my freighter adventure. Nothing like being half way across the Pacific Ocean to make you realize how small you are.

Labels: Freighter, My Life, Photo Friday, Photos, Travel
1 comments have been left. Where is your comment?
22.1.10
Rock And Roll McDonalds

This week's theme over at PhotoFriday is Damaged.

This photo was taken last March near Galveston, Texas, seven months after Hurricane Ike struck. A few days before I took this photo, a good friend in Kansas called me up. He asked me one of my favorite questions, "You want to go on a road trip?" I would guess ninety percent of the time those words are uttered, I respond in the affirmative. The only reasons that would stop me is work schedules or the person has proven to be a horrible road companion in the past. This time it was a no-brainer. The only question I had was when and where? Well, he needed to make a trip down to Galveston to check out 1 Mission:Galveston and the possibility of taking his church's youth group down to help. Having some time on my hands, I told him I'd pack up the car and head west. A couple days we were on the road to the coast. I was shocked at the damage that remained when we arrived in the area. We lost count of the McDonald's sings that had been blown out. And while we joked about the damage to the golden arches, the destruction to homes was heartbreaking. At the same time, we met some amazing people who both were long time residents, as well as recent arrivals, who made it their mission to help rebuild the area around them.

It is amazing the good that mankind can do, when faced with adversity. It is something that we have seen on the news this past week. Sadly, it often takes disasters to really bring out the best in man. Sometimes, I wonder why we can't put our egos, selfishness, and attitudes away and help the less fortunate around us more often?

Labels: Friends, My Life, Photo Friday, Photos, Rants, Travel
1 comments have been left. Where is your comment?
17.1.10
Now You Know How To Be Dumb
I have a love/hate relationship with Facebook. Sure it is a great way to keep in touch with friends, especially when you have friends scattered all over the globe. At the same time, it is a little annoying being kept up to date with friends, especially when you have friends scattered all over the world. Some say there is a fine line between posting useless and useful information. I would say that line is that that narrow. Posting about big news like job promotions, major relationship status changes, interesting tales from an interesting life is cool. Posting the daily color of your child's poop, your weekly gripe with your ex, or your latest Farmville/Mafia War/Bejewled Blitz score is not cool.

I basically have a couple rules about my facebook viewing. I have hidden all major games and quizes. Also, I give most acquaintances two opportunities before they are hidden or droped altogether. If they start cluttering up my feed with stupidity, BOOM - the hide button. It is there, might as well use it for the good of humanity. Oh, and closer friends get a couple extra chances.

So to my friends on the Facebook, let this be your lesson. Before you copy and paste some status, think twice. The reason you might not be getting many comments could be that you have been blocked or hidden from most people's view.

Oh, and here is my favorite stupid comment of the week. It is almost like a self-fulfilling prophecy. Or at least an "I'm with Stupid" t-shirt with the arrow pointing straight up.

Labels: Friends, My Life, Random, Rants, Web Stuff
1 comments have been left. Where is your comment?
15.1.10
Take The Long Way Home

Slowly is the theme at PhotoFriday this week.

After years of crossing both the Atlantic and Pacific oceans by airplanes, I decided to do something different on my final trip from Korea to America. After some online searching, I found a company where I could book passage on a freighter. Talk about slowing the trip down. What usually took me thirteen hours would take about thirteen days. To top it off, that only landed me on the coast. I then decided to take a train to make the final portion of the journey.

Would I do it again? In a heartbeat. Those days were some of the most relaxing days I have. I also enjoyed getting to know the crew and a little bit of their lives. Plus, I was able to drive the boat. Sure, it was only for a minute or so, but how many of you have had their hands on the steering wheel of a freighter? Didn't think so.

Labels: Freighter, My Life, Photo Friday, Photos, Travel
0 comments have been left. Where is your comment?
8.1.10
I've Wandered Much Further Today

The theme of PhotoFriday this week is Bed Time.

Three summers ago I had the opportunity to travel the rails from Beijing to Moscow. Our first stop was Ulan Bator, Mongolia. Having a few days to explore, we ended up heading out to the countryside to stay with some nomads. While we were there, we were able to ride camels, experience some of the local sports and music, as well as sample the traditional dishes. Oh, and we were able to participate in the milking of the mares. In fact it was the first milking of the year, so we even celebrated with Vodka and fermented mare's milk afterwards. Every night we were with them, we were able to sleep in a ger. Interestingly enough, even though we were hundred of miles from civilization among these nomads, they did provide us with Winnie The Pooh sheets and blankets on our bed. I'd say it made me feel like I was home, but I don't have a cool matching bed set with cartoon characters there.

Labels: My Life, Photo Friday, Photos, Travel
3 comments have been left. Where is your comment?
1.1.10
Hip To Be Square

This week the theme at PhotoFriday is Square. I did a quick scan of my photos and couldn't find any good ones of the rectangle with equal sides. I did how ever find one of the most famous square, Red Square in Moscow. I took this photo several years ago. Myself and two friends had taken the train from Beijing to Moscow during our summer break. After a couple days in the Russian capital, it was time to go our separate ways. One headed to Domodedovo International Airport for his flight and the other Sheremetyevo International Airport to wait for his flight. I rode the subway with them until they had to head off to different lines. Having another full night before my flight, I decided to wander down to Red Square for one final visit. We had been there a couple times during the previous days, but never in the evening. I was amazed at how beautiful it was at night. Even thought it appears to be early evening, this photo was taken right around midnight.

Labels: My Life, Photo Friday, Photos, Travel
1 comments have been left. Where is your comment?
14.12.09
So This Is Christmas
It has been a while since I have posted. Mostly because my life has gone from one of world travel or wandering through the woods to one of a working every day for the man. And while I have a few interesting stories from between the punching of the time card, I do not think I can share too much, due to contractual obligations and privacy standards. You can read that as, "I'd tell you, but I would then have to kill you."

I'm hoping to toss stuff here a little more often than just the weekly photo, but I am not going to make any promises. In the world of Facebook status, Twitter overload, and the latest news on Tiger Woods, I wondered if my posts were just some more noise out there. But heck, it is my noise, and hopefully someone is reading and enjoying it. So the show must go on. Or at least stumble around now and then.

Today I give you this little gem I discovered on a cassette tape in my basement. It is the Christmas greetings from the radio station I could be heard on fifteen years ago. It made me laugh for many reasons when I discovered it. Some of my readers, if they are still coming back, might actually hear their own voices on the clip. And you might even recognize a few others, that is if you were into Christian contemporary music circa 1994. So, unless I post again in the next couple days, consider this my Christmas greeting to you all. In the words of Styper, "He is the reason for the season, He is the reason for today."



Labels: Friends, Music, My Life, Random
1 comments have been left. Where is your comment?
20.11.09
Here In My Car

Vehicle is the theme at PhotoFriday this week. A couple years my friends laughed at me when I told them another friend was giving me his car. Not just any car, but a 1989 Toyota Camry. A car old enough, I could have been driving it when I got my license. Some were even betting that I would not make it across the state of California, let alone all the way back to Illinois. Well, over two years later, and many many miles down the road it still keeps on cruising. I recently had to replace the front tires after one blew, but such is life. While many would recommend never buying a car from a friend or relative, I would highly encourage accepting free cars. At least it has worked out well for me.

Labels: Friends, My Life, Photo Friday, Photos, Road Trip, Travel
0 comments have been left. Where is your comment?
13.11.09
If I Win Some Races

The theme at PhotoFriday this week is Three. In my quest to attend a game at all the major league ball parks, I was able to cross off National Park off the list this year. Sadly, I think the fans were cheering more for the presidents race than the Nationals the night I was there. Oh well, at least someone they rooted for won that night.

Labels: baseball, My Life, Photo Friday, Photos
0 comments have been left. Where is your comment?
30.9.09
The Thousand Things You've Got To See
Last week I had the opportunity to spend a couple days in Washington D.C. My main reason for going was a job interview, but that didn't go so well. At least I got the chance to take in a baseball game, see some sights, and hang out with some former students. Plus I learned a few things along the way.

These include:
1. You can listen to Car Talk recordings at the Smithsonian.
2. I love public transit. Not only did I ride the metro more than I actually needed, but I found myself sitting on the replica of Chicago's "L" at the Smithsonian.
3. Someone had a really bad idea of putting the National Zoo on a hill.
4. Of all the records (those things before CDs for you young folk. And CDs are those things before MP3s for you really young folk.) that they could display in the American History museum they chose one by Elvis and one by Cheech and Chong.
5. Turning the light on when you enter the room at 1 am will make you the most hated person in the hostel. I seriously thought about fighting that dude.
6. If you are really lazy, you could take a tour of the Smithsonian museums by watching Night At The Museum 2 at the IMAX at the Air and Space museum.
7. The Nationals really do stink. Plus their fans really hate Manny Ramirez.
8. Inbreeding is not just a human problem. I guess locking grasshoppers up in a case can also cause some problems with their offspring down the line.



Not a total waste of a few days, even if I did not get a job offer.

Labels: My Life, Photos, Random
1 comments have been left. Where is your comment?
18.9.09
Pictures Of Lily

The theme this week at PhotoFriday is plants. This photo was taken on a lake in the Upper Peninsula of Michigan. I have often thought about changing my residence to there, even have debated telling people that is where I am from. Nothing against my hometown, but there is just something amazing in my book about the UP. You have to experience it to understand.

Labels: My Life, Photo Friday, Photos, Up North
1 comments have been left. Where is your comment?
9.9.09
Video Killed The Radio Star
A few years ago, I had the chance to see Fool's Garden play an acoustic show at an Irish pub in Freiburg, Germany. Sadly, most of you who read this post have probably never heard of the band. Others might only know them for their hit song, Lemon Tree. You are all missing out. It was a great show, and only made me appreciate their music more.

Well, they have a greatest hits album coming out in a few weeks. They have also recently released a new song, complete with a video to boot. The cool thing is that they have made it fan friendly, allowing their fans to be a part of the video.

Take a look at the video, and see what I mean. Although, you might hope that some technology comes along and helps kill the video star (at least one of them) in the future.

If you want, you can even upload your own photo into the video.

Labels: Germany, Music, My Life, Video
1 comments have been left. Where is your comment?
24.7.09
A Watch On Our Shadows

This week's theme at PhotoFriday is "In Shadows." I took this earlier this week from the viewing deck of the Sunsphere in Knoxville, Tennessee. Twenty-seven years ago my family headed down for the World's Fair. I don't remember being able to go up to the top of the Sunsphere at the time due to long lines, but I am guessing it would have been shorter than took twenty-seven years.

As I looked down over Knoxville, I thought it might have been that trip almost three decades ago that started my crazy wandering around the globe. There on the streets of Knoxville, a young and impressionable boy was bumping shoulders with people from all over the world. I was witness to many countries showing off their best and brightest. I think those experiences might be some of the catalyst that prompted me to wander to over thirty-five countries to see first hand what each country has to offer. And for this, I am thankful.

Labels: My Life, Photo Friday, Photos, Travel
1 comments have been left. Where is your comment?
21.7.09
I Can Be Your Hero
On my long drive home, I decided to take a break in Metropolis, Illinois. Metropolis bills itself as the hometown of Superman, and have built a giant statue of him in the town square. At two hundred feet tall, it actually is an impressive piece of Americana. I spent a little time taking photos of the statue, and some of the other Superman related items in the area, before heading back out to the highway. Before I got there, I was sidelined by a historical marker pointing towards Fort Massac State Park. Not too excited about the next five hours of driving, I decided to do some wandering around.

As I entered the fort, I encountered four youth throwing rocks at the wall of the fort. I advised them that they might not want to be doing that, which they told me they were trying to knock a wasp nest down. Because of that information, I stressed even more the importance of not throwing rocks in that area. I then continued on wandering around the park and taking photos.

Upon walking back through the fort, my spidey-senses were set off. I noticed several of the glass windows had been shattered. I then recalled that one of the kids appeared to be using his shirt to carry a bunch of rocks. They were in one of the rooms of the fort and didn't hear me, as I passed by. I quickly looked in a couple of the other rooms, and noticed that there was glass on the floor near the broken windows, showing that they had been recently shattered.

Not having my phone, I approached a few adults in the area. I informed them that there might be some youth up to no good in the fort. I explained what I saw, and suggested that they might want to contact the local authorities. Before I could finish explaining, one of the adults got up and headed over to take care of business. I was informed that he was part of the local authorities, and would be able to handle it.

As I headed back to my car, I laughed a little, as I knew that I had helped stop some vandalism in Metropolis. Sure, Superman could have done it, but he was too busy posing for photos downtown. I guess some heroes wear their underwear under their pants. I drove off into the sunset feeling a bit like Reno Raines. Who knows where me and my crime fighting ways will end up next?

Labels: My Life, Random, Road Trip, Travel
3 comments have been left. Where is your comment?
18.7.09
Almost Heaven
I love the open road. Heck, I guess I enjoy just about any form of travel to be honest, but today the open road is what I'm loving. A couple days ago, I hopped in my 1989 Toyota Camry wagon and headed south. My destination was Winston-Salem, North Carolina, where two of my friends will be wed later today. So this gave me a excuse to load up the iPod, toss a bag of sunflower seeds in the seat next to me, and head out.

When I travel alone, I control the speed, where and when I stop for food, and most importantly the tunes. For the most part I keep the iPod on shuffle, and just skip the songs I don't feel like. Plus an episode of Car Talk is usually required for the longer trips. Occasionally, as song or artist is required for certain spots on the road. Yesterday, for example, as I entered West Virginia, I felt it was necessary to play John Denver's Take Me Home, Country Roads. As I had been behind the wheel for six hours, I thought it would also be a good idea to put the three versions of the song I had on a loop. For over thirty miles, it was a Country Road Sing-a-long in my car. When I hit the Hurricane, I decided it was time for a change. On a side note, who names a town Hurricane, especially when it is near enough for one to be of threat? It isn't like there is Tornado, Illinois, Wild Fire, Washington, or Epicenter, California.

As I had a specific destination and time of arrival, I didn't get to wander too far off the road too much. I did see Larry Bird's Bust in French Lick, Indiana. I was hoping to see the grave of Chang and Eng Bunker, but completely missed the exit. But I am hoping to do some wandering on the way back. Because a really good road trip, like life, is not about the destination, but the journey.

Labels: My Life, Road Trip, Travel
1 comments have been left. Where is your comment?
11.7.09
Will Things Ever Be The Same Again?
Tonight I was wandering around Toys R Us. Before you alert the local authorities, I was there with my nephew, who is almost a year. But as I was saying, I was wandering up and down the aisles checking out all the cool toys. I think it has been at least ten years since I last was in a Toys R Us, so some things have changed for sure. As I wandered past the toy pianos something caught my eye. There it was, the Little Tikes PopTunes Melody Beads Piano. Forget the toy pianos that play annoying kid's songs all the time. This my friends, is targeted towards people my age who have reproduced or obtained a child from someone who has. This piano plays three pop songs over and over. And when I say pop songs, I mean Wide Open Spaces by the Dixie Chicks, Message In A Bottle by the Police, and my favorite, The Final Countdown by Europe.

Sure these songs might get just as annoying to parents, but this is a step in a new direction. And I am not sure a song about a girl needing to go off on her own, a song about loneliness, and a song inspired by space travel might not be the best songs for a child's first songs. At least it is not another toy cranking out the Farmer and the Dell. Heck, if there were more toys like this, I might consider getting a kid of my own so I can play with these toys. Until that happens, I will just have to keep hanging out with my nephew.





Labels: Music, My Life, Random
1 comments have been left. Where is your comment?
19.6.09
There's A Ship On The Ocean

Noisy is the theme this week at PhotoFriday. This photo was taken somewhere in the middle of the Pacific Ocean. It is the engine of the Hanjin Phoenix, a freighter ship that I had the opportunity to spend a couple weeks on. The engine room was one of the main areas that was off limits to my wanderings, but the chief engineer did give me a private tour. Unfortunately, it was so loud that I could barely understand half of what he was telling me about the machine.

Labels: Freighter, My Life, Photo Friday, Photos, Travel
0 comments have been left. Where is your comment?
15.6.09
You Better Listen To The Radio
This past weekend, I had the opportunity to attend a live taping of Whad'Ya Know, a comedy and quiz radio show. As a fan of the show, it was interesting to see how the show works, as well as to put faces to the voices I have listened to for years. But the best part was being selected from the audience to take part in the quiz. Sure, it meant that I was made fun of a little, including a short discussion about how I lack a middle name, but hey, I got the chance to go for the Mother Lode of prizes.

Thanks to the power of the internet, you can listen to the show, if you failed to catch it live. Download the June 13, 2009 episode or listen online if you prefer. I can be heard during the last fifteen minutes of the show, if you don't want to listen to the whole show. Enjoy.

Labels: Humor, My Life, Random
1 comments have been left. Where is your comment?
6.4.09
Strikes A Blow With His Census Form
For those unaware, or those who really care, I have found some employment with the United States government. I would love to tell you I am now a special agent in the FBI with the task of trying to solve the cases they have assigned an unsolvable status due to some unexplained phenomena. Unfortunately my X-file solving will have to wait for another day.

Right now, I am working as a lister for the Census Bureau. I basically will be assisting the government as they update their address lists. This means I will be going door to door checking addresses. There is a press release telling a little more about what I am doing, and not to fear me, and others like me, if you see us walking up your driveway. But if you see me walking by, and the tears are in my eyes, look away, baby, look away.

I am just glad I do not have to ask any personal questions at this point. I fear I would encounter too many people like this guy.

Labels: My Life
0 comments have been left. Where is your comment?
29.3.09
Teach Your Children Well
I know many parents do not want to hear a single childless guy tell them how to raise their kids. But take into consideration that this guy has helped raise hundred of kids who were dropped of at boarding schools around the world, and hopefully you will heed the following advice.

This is a very important tip for those of you with young boys. When teaching them how to use a urinal, please instruct them that talking is limited to very close friends and family. In those two situations talking should only be limited. But in no situation known to man should a child start a conversation with an adult while both are using urinals.

I give this advice today after an awkward situation I was in today. I stopped at one of those large everything including the groceries stores. As I had been on the road for a couple hours, I made my first stop the bathroom. As I walked through the door, there were a couple small children blocking the entry. Their father asked them to move so I could pass by, and I thought nothing of it. Unfortunately, a minute later as I was taking care of business, when I heard a voice coming from the urinal next to me. "That was my dad out there," he began. I, not knowing exactly what was going on, just kept to my business and didn't say anything. But the little kid kept talking, as kids often are prone to do. So I finished up, zipped up, washed up and headed to the door. I think the kid still might have been talking to me as I exited the door. I was tempted to say something to the father about proper urinal etiquette or even about supervising your children in the restroom. I figured it might be more of a hassle, so I just went about my shopping.

But for you my readers, please do me a favor and have a talk with your sons tonight. Tell them that when you use the restroom the only things other than air exiting your body should be from below the belt.

As a bonus, you should also tell them that talking to guys with creepy mustaches is usually not a good idea, especially in light of the above tip. I am not saying all guys who have mustaches are creepy, but as a general rule of thumb...

Labels: My Life, Random, Rants
1 comments have been left. Where is your comment?
20.3.09
The Egg Was A Bird


This week the theme at PhotoFriday is Edible. I had several photos of foods from around the world I have consumed, but figured I would go with what many might find one of the more disgusting items. This is some balut from my last trip to the Philippines. While it might not be the most appetizing images, it actually was a whole lot better than I expected.

Labels: Food, My Life, Photo Friday, Photos, Travel
0 comments have been left. Where is your comment?
13.3.09
You Can Hit The Highway

The Weekend is the theme at PhotoFriday this week. I have spent the last three four days sitting inside a vehicle watching the pavement pass by, and my weekend is looking like more of the same. I am not exactly sure which way I am heading, I just know I need to get home from this long road trip I am on.

Labels: My Life, Photo Friday, Photos, Travel
0 comments have been left. Where is your comment?
6.3.09
And The Water, It Was Icy

Isolation is the theme at PhotoFriday this week. This shot was taken towards the end of my self imposed hermit days this winter. Guess after so many days without contact you get a little stir crazy. And being stir crazy can lead to ideas like canoeing in the snow or setting up your own bowling rink.

Labels: My Life, Photo Friday, Photos
1 comments have been left. Where is your comment?
13.2.09
Pushing An Elephant Up The Stairs

This week at PhotoFriday the theme is pet. I do not have a pet. Part of the reason is that they limit the vagabond lifestyle. I would also have a hard time spending money to take care and feed something that I am just going to have to clean up after.

But if I had a limitless supply of money and land to have animals to call my own, I would probably have to have an elephant. There is just something cool about seeing one up close. Perhaps it is due to my desire of being in a circus as a kid. It could also could be related to the Simpsons episode where Bart wins an elephant. Either way, I am guessing I would be the coolest guy on the block, owning my own pachyderm.

Labels: My Life, Photo Friday, Photos
2 comments have been left. Where is your comment?
3.2.09
Christmas At Denny's
For some reason Denny's restaurants decided to offer free Grand Slam breakfast meals from six until two today. This came to my attention during a little football game on Sunday. Being unemployed, I had some time on my hands to take advantage of this fine deal. I set my alarm for the crack of dawn woke up sometime around nine, hoping to avoid all the working class people who might try to get in before work. I figured that arriving around ten would be a good time. Unfortunately, when I walked in the cute gal behind the counter informed me it could be a two hour wait. Luckily, a friend had tipped me off of potential long waits, and I came prepared with a book to read. An hour later I found myself saddled up to the bar awaiting my Grand Slam. Sitting there gave me an interesting view on the kitchen crew as they cranked out more Grand Slams that Bonds, McGwire, and all the other enhanced baseball players ever have. Twenty minutes later, mine arrived. Mission accomplished.

Since I was a couple miles from my brother's house, I decided to go spend a little time with my nephew. After some quality time discussing politics, the fact he should buck his dad's views and become a Cub fan, and him getting his first two teeth, I decided it was time to head for lunch. Hmmmm, if there was only a place giving away free food. Oh wait, there are two Denny's in a short driving distance. So it was off for Grand Slam number two. This time it was only a thirty minute wait for my table, and about ten minutes until the plate landed. Not only did the meal arrive quicker, it tasted better. Although I did have to wait for the waitress to bring me some silverware, which were in short supply today.

As it was nearing two o'clock as I headed out the door and the next closest Denny's was about forty minutes away, all I could do was drown my sorrows and Slams with a little happy hour special.

Song for this post: Randy Stonehill - Christmas At Denny's
0 comments have been left. Where is your comment?
31.1.09
So This Is My Cassette
In my cleaning process, I have come upon a large crate of cassette tapes from a time long ago. For those of you who do not know what a cassette tape is, it is what people used to listen to music before Ipods and even CDs, although not as far distant as the 8-track.

I want to see what is recorded on them before I either toss them or return them to storage. Unfortunately, most are unlabeled. So I have dusted off the old boom box, and am listening to all these tapes. I am hoping to find some of my long lost interviews with several artists, but so far I have found:

1. Answering machine tapes from both my brother and my machines during college.
2. A recording of 20 The Countdown's tribute to Rich Mullins
3. A recording of Jerry Springer's Dr. Talk.
4. A couple tapes where I am driving around talking into a recorder for no apparent reason.
5. My first broadcast on KLRC
6. My airchecks that I sent to radio stations in hope of a job.
7. The theme songs from 1991-1995 summer camps at Miracle Camp. Word!
8. Some salsa and meringue music from my time in Venezuela.
9. A tape I made of Christian music sped up to sound like the Chipmunks.
10. The KLRC Christmas greetings circa 1995 or 1996.

There are some gems that I might even transfer to MP3 for all to hear. But for now I must go back to cleaning.
2 comments have been left. Where is your comment?
30.1.09
We Have The Facts
The big craze sweeping through my friend list on Facebook is to post 25 random facts about oneself. You are then to tag 25 friends, who are to do the same. It is like a friendship knowledge Ponzi scheme. I figured I should post the list here as well, since some of my readers here are not my facebook friends. Yeah I'm talking to you, Fox's dad. So here are twenty-five random facts about myself that you may or may not have known. I know I have posted about a few of these. Enjoy.

1. I have three different valid drivers licenses in my wallet.
2. I have been to as many countries as years spent on this planet.
3. While I started my musical career on the French horn, I quickly switched to the tuba partially because I thought it would be more impressive to the ladies.
4. There have been few days in the last fifteen years when my face was completely shaved.
5. I am a big fan of the judge shows, especially People's Court, Judge Judy and Judge Mathis.
6. My name appeared in a list of thanks in a nationally released album.
7. I am a bit of a pistachio snob. If they are not Turkish, I will probably pass them up.
8. My minor in college was camping.
9. CNN has broadcast my face on at least two separate occasions.
10. I drive a twenty year old car that a friend gave to me. And I love it.
11. The last free car I owned, I totaled in Italy about a mile from the Mediterranean Sea. Bon Jovi was on the radio at the time.
12. Speaking of Bon Jovi, if you watch their Crush DVD close enough, you might see me in the crowd.
13. According to iTunes, you can listen to my music collection for one hundred days. That doesn't include the cassettes and records that have not be converted to mp3s.
14. I have consumed balut, dinuguan, and kimchi, yet still find banana to be the most disgusting taste I have encountered.
15. One of my favorite ways to sightsee is to wander around cities in the middle of night.
16. I have an amazing sense of direction. Sense of style still lacking.
17. When I travel, I like to read appropriate books. Romans in Rome, Ephesians in Ephesus, Dostoyevsky in Russia, Moby Dick while out at sea, etc.
18. Scuba Advanced Open Water certified
19. I am a sucker for street musicians. I have a collection of cds from some of my favorites.
20. I own the Marvin the Martian t-shirt and cape that Steve Zahn wore in Daddy Day Care.
21. I was picked up by the Chinese military near the Russian and North Korean borders with China.
22. Because of stories like that, some I know thought I wasn't really a missionary, but a spy.
23. I messed up some psychology tests because I love the solitude as much as the center of attention.
24. I had to talk to a counselor about those messed up tests. He looked just like Dr. Leo Marvin.
25. Someday I am going to figure out what I want to be when I grow up.

Currently listening to: The Hooters -
1 comments have been left. Where is your comment?
28.1.09
Make A Bid On That

Ponch Action Figure, originally uploaded by rycordell.

BUY SOME OF MY STUFF



I got some random stuff on Ebay, as I am trying to clean out my parents' basement. At this point there are some DVD sets, some CDs, some movie memorabilia I have collected over the years, and a few random action figures, including Ponch.

Some items are ending in the next day, and there will be more posted in the next few days. Heck, if there is something I own you would like in your possession, give me a call or leave a comment, and I might just put it up for bids. I am trying to clean out the closet, so you just never know what I am willing to get rid of. Who would have thought I would have put Ponch up for bids?

So get on over to Ebay and get yourself a deal on a piece of Ryan Cordell history.
1 comments have been left. Where is your comment?
16.1.09
Don't Sleep In The Subway


This week's theme at PhotoFriday is Meditation. This is a photo taken during my last few weeks in Korea.

Labels: My Life, Photo Friday, Photos
1 comments have been left. Where is your comment?
14.1.09
Know It's Only Words
Sometimes I am amazed at the things people announce to the world. A few months ago I posted about the lady at the Grand Canyon who couldn't wait to see what her photos would look like on the computer. I honestly thought it would be a while before I had something as golden to pass along.

Well, tonight it happened again. I overheard another phrase that made me wonder if there are too many chemicals in the foods we consume. This evening I had a ticket to see Spamalot. As a fan of both Monty Python and tolerator of musical theater, I figured I was in for a good time. I was not disappointed. It is a funny show, so funny I think the guy a couple seats over laughed to the point of wetting one's self. But the line that made me laugh the most was not from the show, but the couple behind me. At intermission, one turned to the other and said,

"I did not know this was a comedy"

Think about this for a second. A couple paid money for seats to a musical written by a comedian based on a comedic movie that he and other members of his very famous comedy troupe wrote and stared in. Even the title sounds humorous. Spamalot! Or were they expecting a sad tale about someone's email inbox and while they did find cheap drugs, ways to increase their size, and helped a widow transfer her late husband's great fortune out of the country that killed him, they could never find true love?

And if that wasn't bad enough, I heard a similar sentiment from someone else near me as well. This made me wonder if these people have extra money laying around and will go to see anything playing at the local civic center. Is it that hard to use the Google to find out if Spamalot is a comedy? But most of all, did they need to announce to the people in the cheap seats that they probably should have stayed home and watched American Idol? Really people, sometimes it is best to not verbalize all your thoughts. But I guess I have to thank those who do give me a good laugh once in a while with their clueless comments. So there you go.

Currently listening to:
Labels: Humor, My Life, Random
2 comments have been left. Where is your comment?
9.1.09
When I Think Of Winter

It has been a while since I have been online on a Friday for PhotoFriday. This week's theme is White. I chose one of the photos I took last month while I was wandering around the frozen lake. This was from one of the sunnier days. Part of me wishes I was back up there, although I hear it is bitter cold. But that is what the wood stove is for, right?

Labels: My Life, Photo Friday, Photos
0 comments have been left. Where is your comment?
5.1.09
So This Is The New Year
Did you miss me? Cause I missed you. It has been a few weeks since I have posted. The funny thing is that I have had a steady internet connection during most of that time. In fact, I think since I left my hermit ways in the woods, I have had less social interaction with people outside my family than I did before. That could be a sad commentary on my life, but I'll just say it was due to the holidays.

So now I am still in civilization and trying to figure out what to do next. Do I return to the woods? Do I use my frequent flier miles and travel somewhere fun? Or do I try to find a job? So many choices, so many directions.

I do know I am hoping to do some house cleaning. Both online and off. I just renewed this domain for a few more years, so I would like to revamp this site. I am also planning on cleaning out a lot of junk I have collected over the years in the material world. I will probably be posting links to eBay soon.

So stay tuned, you never know what is next.

Currently listening to: Cut Off Your Hands -
Labels: My Life
1 comments have been left. Where is your comment?
17.12.08
Pop Goes The World
I had to make a trip to town to pick up dish soap. Yep, if it were not for a need to have clean pots and pans, I probably would have stayed in the woods a little longer. To bad there are not some disposable pots and pans, in a paper plate style that could be just used and then tossed. Oh well. This gives me an opportunity to grab some Thai food, pick up some other supplies, and upload some more fun stuff.

Today at the request of my friend Mickie, who might comment here the most, I have made a video of me popping corn over a bonfire. I shot this the other day in single digit temperatures, so I hope you all enjoy it.





By the way, while I am here at the library, there is a lady fast asleep in the room. I know because I can hear her snoring. And I thought I would be the one most likely mistaken for a homeless person when I entered the library.

Well, I have one more week before I head home for the holidays. So until then, stay safe and happy holidays.
1 comments have been left. Where is your comment?
4.12.08
Animals Strike Curious Poses
So I stepped off the island the last couple days to assist in the butchering of a deer. This was supposed to happen before Thanksgiving, but due to the lack of solid ice, I could not make it. Luckily for me, my relative was able to score another deer. Thus, I now have a cooler full of deer meat to experiment with. So if you are in the area, come check out my deer delights.

Here is the latest of videos. Some are already commenting that this could prove that I have snapped. You be the judge.


2 comments have been left. Where is your comment?
1.12.08
Surprise Ice On The Water
There have been several things I have thought about posting about, but due to a drop in temperatures the last few weeks, I found myself trapped on the island. A week ago last Friday night the entire lake froze over. The ice was too thin to walk across for most of the week, yet almost too thick to bust through with the boat. I did not feel like taking any risks, so I found myself wandering around in circles for over a week.

Here are a few news items I am late to the party to post about, but better late than never, right?

The local news earlier this week said that Sudden Infant Death Syndrome can be reduced greatly by using a fan in the baby's room. While there might be some research that proves this could work, I don't think the scientists have considered that it would only put them at risk of the dreaded Fan Death. I am betting most of my readers have never heard of this deadly killer, but to those who believe it is no laughing matter.

I have seen a few clips about people being trapped at the Bangkok airport for the last week. As one who has passed through that airport, my heart goes out to those stranded. While I found most of the people of Thailand I encountered to be a friendly, this was not the case at the airport. A couple years ago, a friend and I had a layover there. As we passed through passport control, I was sent out towards baggage claim, while my friend was directed to the transit area. The guards would not let him follow me, or even send someone to find me, as it was my first time in the airport. Due to the time, I actually had to run to get to the gate, only to be told by the lady behind the counter that I needed both the boarding pass (which I had) and the receipt (which was in my friend's possession). They were very unhelpful, not allowing me to page my friend or even have them find him themselves. I returned to the counter several times to see what I could do to make sure I was on the flight out, only to be told on my last visit that they were paging me. That was funny, as I was within eyesight of them the whole time, and never heard my name announced. Luckily, I was able to get to the plane, where my friend had been waiting for a while.

The media has been telling us lately that the economy is so bad that people are not shopping. Guess that was proven wrong on Friday, when not only did people go shopping, but they did it with lethal force. It is sad to think that people are capable of trample a person to death in order to get a good deal on a television. Hopefully those involved will spend more time behind bars than they will spend paying for that television.

And how in the world can you plead not guilty to shooting yourself in the leg? Seriously, it was his gun, in his possession, and the bullet ended up in his leg. Can we not save the tax payers' money on a trail? Perhaps this is yet another reason why our country is a little messed up.

I am beginning to think that if Ted Kaczynski had a YouTube account he might not have gone the route he did. All I know is that after spending over a week completely trapped on that island one of the things that prevented me from going on some crazy binge was making stupid videos for you all to see. There are more where this one came from.

1 comments have been left. Where is your comment?
13.11.08
Look At This Photograph
New photos have been posted on my flickr account. And more videos including the one posted below, can be viewed on my YouTube page.





Oh, and speaking of photographs, and the title of this post... Is Citibank trying to get me to stop using my credit card? They are offering lucky winners the chance to go on the road with Nickelback, all you have to do is use your Citibank credit card to enter. Sounds like a reason to use cash.

Labels: My Life, Photos, Video
1 comments have been left. Where is your comment?
7.11.08
Hunting High And Low
So another video has been posted. My friend Chris, asked for either a hunting or sock puppet video. One of these has been granted, the other might still be in the works. If you have any requests for videos of the woods, leave them in the comments.



Also, from time to time I come across an artist that I feel I need to recommend. The latest is Brendan James. There is a long story about how I came to hear his album, but the short of it is that I bought it from him on a bus. When I finally put it in my CD player, I was amazed. So give him a listen, I got a feeling you will be hearing his name in the future. And if so, remember you probably heard it first from me... unless I have been in the woods so long that he is already a household name.

Currently listening to: Brendan James -
0 comments have been left. Where is your comment?
29.10.08
Jeremiah Was A Bull Frog
I am still alive. The lack of internet has provided much time for good thought, but no way to update it. There is a lot I could say right now, but instead will just post one of my photos from the fall.


By the way, don't forget to vote. This is the first presidential election that I meet all the requirements to run for the position. So feel free to write me in if you are undecided, or just would like to impress me.

Currently listening to: Martyn Joseph -
0 comments have been left. Where is your comment?
2.10.08
Now He Walks In Quiet Solitude
A quick update from the woods.... last night I was outside taking care of a full bladder when all of a sudden a growling sound caused me to try to speed up my business. I have no idea what it was, but just knew it wasn't happy that I was marking my territory. I guess he already had.

Here are a couple videos I made in the last couple days.


A Tree Falling In The Woods






Out On The Lake



And here is one that is part of my inspiration for wandering into the woods in the first place.





Alone In The Wilderness

Labels: My Life, Up North, Video
3 comments have been left. Where is your comment?
24.9.08
Look At This Photograph
After my last post, Mickie asked for photos. While I am assuming that she was hoping for ones of the baby, I figured I better cover all the areas I mentioned. So here you go.



Cubs v. Astros at Miller Park


Aasif Mandvi from The Daily Show


Avery and Uncle Ryan



There are plenty more photos on my flickr pages. Looking at those should kill some time. Enjoy.

Currently listening to: Eddie Vedder -
Labels: Family, My Life, Photos
0 comments have been left. Where is your comment?
21.9.08
Finally Got Something To Say
I have been quiet on this blog lately. I really do not know why, other than I just have been a little lazy. It is not like cool things have not been happening worth telling. There have been things like getting to see the Cubs play the Astros in Miller Park, allowing me to cross another stadium visited. Or how about getting to hear one of the correspondents from the Daily Show talk about the behind the scenes stuff of the show? That was cool. I guess the biggest news is that I now have a nephew.

Just thought I would share. And now back to more blog silence for the time being.
1 comments have been left. Where is your comment?
7.9.08
I Should Be On That Train And Gone
The time has come to once again say goodbye to California and all my friends out here. And once again, I am about to board a train heading east. It has been a good week out here, perhaps one of the best I have spent on this side of the continent. But every good thing must come to an end, and every new beginning comes from some other beginning's end. I am just not sure if this is some other beginning's end, or somewhere in the middle. Only time will tell.

But now, I must take the Mustang for one more good drive on the highway before I drop it off. Then it is a bus to Union Station, and a train to the middle of Illinois. Perhaps I will find someone near a train station with their Linksys open. Otherwise, I will post from the other side.
0 comments have been left. Where is your comment?
3.9.08
I'm Amazed, I'm Confused
Today I decided to head to the Hollywood area to check out a couple events I had seen online. Brian Wilson from the Beach Boys was going to be autographing his latest CD at Amoeba Records. I also noticed that Howie Mandel was going to be getting his star on the Walk of Fame. Sadly, the holiday on Monday has even thrown off the schedule of this unemployed guy, as the Wilson thing was yesterday, and Howie doesn't get his star until tomorrow. Whoops.

I really hope there is not anything else I am missing or forgetting about that is more important that watching Howie get his star.

Labels: My Life
1 comments have been left. Where is your comment?
31.8.08
A Long Way Down The Holiday Road
Ah, Labor Day. Nothing like a holiday to make you really appreciate the fact you have not worked a day in the last two months. Just remember, the unemployed do not get days off. Luckily for me, I was able to make myself handy these last few days, as one of my friends from my Germany days needed someone to ride along to California. I told her to pick the route, and I would provide driving assistance, musical entertainment, as well as find a few places along the way to make the trip memorable.

So she picked a southern route with three overnight stops in Amarillo, Grand Canyon Village, and Las Vegas. Day one was basically a haul of a drive with little stopping. We did stop to see the second largest cross in the Western Hemisphere. Sadly we could not stay long due to the hundreds of mosquitoes that attacked us. A little later we found ourselves at the Big Texan, home of the famous 72 ounce steak. I could barely finish my twenty-one ounce steak, so I could not imagine attempting to down the ole 72.

Day two found the spray paint mentioned in the last post to find use as we visited the Cadillac Ranch. We left our marks, and then left the remaining spray paint for some Germans who were there checking out the place.
Later that day as we neared Flagstaff there was a stop I need to make. I wanted to stand on a corner in Winslow, Arizona, just to Take It Easy.

A couple hours later, we stood on the edge of the Grand Canyon to watch the sunset. As we stood there, I overheard one lady say, "I can't wait to get back home and see how this looks on the computer." Dang, what has this world come to? We stand on the edge of a beautiful scene and think about how this will look on our digital picture frame. By the way, doesn't this look great on your computer?
The final night of the trip found us in Vegas. And while many hold to the old adage of "What happens in Vegas, stays in Vegas," I will tell you at least one thing. I not only got to see Penn & Teller, but got my photo with them after the show.
And yes, they have now joined Nelson in the small number of celebrities I have given bunny ears to in photos.

Now I am sitting in Los Angeles for the next week, hanging with some old friends, making some new ones, and enjoying a fine little rental car I got.

Currently listening to: The Cars -
Labels: Friends, My Life, Photos, Road Trip, Travel
1 comments have been left. Where is your comment?
26.8.08
Going Back To Cali
Well kids, in the spirit of many males during the gold rush and L.L. Cool J, I am going back to Cali. A friend is moving out there and was looking for someone to help with the drive. My love for road trips and my current employment status have met in a perfect storm sort of way that will allow me to once again crisscross this great nation of ours.

Tonight we picked up some basic supplies for the trip: Candy, drinks, spray paint, crackers, apple sauce, and beef jerky. Then we went to find some ethnic food in the area. I am very happy to say I am stuffed with some of the best red curry I have had in a long time. At least I have that going for me.

See ya somewhere down the road.
1 comments have been left. Where is your comment?
22.8.08
Depends On What You Look At
Many of you know that I am currently in between jobs. Or at least I really hope I am, as I do not have enough saved up to call this retirement. So, I am casually looking around at various job opportunities to see what I might like to do next.

The other day, while I was watching my judge shows, I noticed two jobs that are on opposite ends of the job desirability scale. On the side of jobs that I would love to have for at least a little bit is bailiff on one of the judge shows. I would prefer to serve with the honorable Judge Mathis, Judy or Milian, but I am not too picky.

On the far other end of the scale, the job I would not want for a minute is a personal incontinence consultant. I wish I was kidding about that title. Unfortunately, a commercial for ActivStyle interrupted the court proceedings. In it they mentioned that personal incontinence consultants are standing by for your call. I began to imagine what it would be like to explain your career to friends at a party. Heck, I bet they are the life of the party with all their incontinence talk. Do you think they have that listed on their business cards?

According to the ActivStyle website, they have "a highly trained staff of incontinence specialists," so I doubt I even have the training needed to make the cut. Oh well, you never know when it will happen. I'm talking about getting that next job of course.

Currently listening to: Lenny Kravitz -
Labels: Accidents, My Life, Random, TV
0 comments have been left. Where is your comment?
31.7.08
The Midnight Train Going Anywhere
On a warm summer's evening on a train going nowhere I met up with this gambler. We were both too tired to sleep. We took turns staring out the window at the darkness, until boredom overtook us, and he began to speak.

OK, so my train ride did have the warm summer's evening, and often I was too tired to sleep, but no gambler came my way to impart words of wisdom before taking his final breath. Instead, I was seated next to the Staring Sisters. It felt like these two girls were taking turns keeping their gaze upon me. And when they were not staring, one of the girls would proceed to recline and upright the chair in front of me, the one that was attached to the tray table holding my laptop.

All in all, it was a good trip from Seattle. I met a couple decent people on the train. I had the smarts to stop at Pikes Place Market in Seattle to pick up some fresh fruit and snacks for the journey. This allowed me to avoid being taken for the high priced fare aboard. I was even able to scam some wireless internet signals at a couple stops.

It was all going well, until the night before Minneapolis, when we were informed that the train would not be going all the way to Chicago. Due to recent flooding in Wisconsin, the tracks were currently being worked on. The train would have to take a detour, but many passengers would have to take a bus from Minneapolis to Chicago. I was one of those chosen ones. But we were in luck, as Amtrak was generous and gave us a very posh bus to ride in. If that were only true, what they gave us was a cramped bus, a cake doughnut, and an eight ounce bottle of water. That, my friends, is service that will keep me coming back. A freakin' cake doughnut!

Well, we finally made it to Chicago, and were told to go to the baggage claim to get our bags. For some reason, I decided to check with a staff member about my checked bag, which in a real world would be transferred to my train to Bloomington. He informed me that only the earlier train to Bloomington had checked luggage service, and that my bag would arrive the next day. He did offer me a chance to get my bag, and so I found myself under the belly of Chicago's Union Station. It was an interesting place where few venture. Down there I met the men who get no thanks for getting the bags from train to baggage carousel. I found my bags, and proceeded back to the surface, only to discover I had about fifteen minutes to spare before my next train departed. No time for that slice of Chicago style pizza that I had hoped for.

Three hours later, I was at my parents' place trying to remember where they hid the spare key. It was found, a much needed shower soon followed, and now I am hit with the fact that the trip from Korea is finally over. It is a sadder thought than I expected, but at least it means that the next adventure is ready to be planned. Where to next?

Currently listening to:
3 comments have been left. Where is your comment?
25.7.08
Coming To America... Today
I am actually on American soil yet again. Currently I am sitting on a bus on the Canadian/American border waiting for all the people to clear customs. The bus is hot, as the air condition has not been turned on. And I am strategically sitting with the hope of having both seats to myself for the rest of the trip to Seattle. Plus there is wifi on the bus. How freakin' cool is that? Sadly, I was an idiot and left my iPod and headphones at my friends' house in Vancouver. So it is going to be a quiet ride.

There have been so many stories and adventures on this trip, and perhaps when I get back to Illinois I will share a few here. For now, check out my trip photos. I have a few more to add, but that only gives you a reason to keep checking back.

The aircon just kicked on, and it looks like me intimidating seating worked. Seattle, get ready for my arrival.

Currently listening to: My Last.Fm Neighborhood Station Thanks to free wifi on a bus and a extra set of headphones I found in my computer bag.
1 comments have been left. Where is your comment?
20.7.08
The Earth Was Last Night's Bed
I have spent the last few nights sleeping in a tent on Orcas Island. I came up here for a music festival, and now wonder why I never made it to this part of the world before. There will probably be a greater update on this portion of the trip, as well as the trip as a whole. (Don't worry Dave, I have not forgotten the freighter posts) But for now know that if it were my desire for a shower and a room with heat for the night, I would stay here a little longer. There is only so much that a pack of Wet-Wipes can do to keep you clean. And cheap me did not plan properly for the cold nights. The cheapest and lightest sleeping bag at Target is not always the best option. Luckily for me, Bill Mallonee offered my a spare bag for one night. (How about that for cool name dropping stories?)

So now I sit and wait for a ferry to Canada. Yep, time for another boat ride to another country. Perhaps I should start to see how many countries I can enter by sea. So far.. Ireland, England, Belgium, Greece, Japan, USA, Canada, South Korea and I think France. Not too bad start.

Labels: Music, My Life, Travel
1 comments have been left. Where is your comment?
5.7.08
Tell You About The Plane Crash
It was a Fourth of July to remember. I joined Dave and his extended family at Surfside, California for some festivities. We started the day taking part in a parade. This isn't the first time we have taken part in a parade together, but I am kind of hoping it is the last. It was good times as we walked around the community to a backdrop of patriotic music.

After lunch we were all hanging out on the beach. At one point, several of us headed in to avoid any further sunburn. As we were sitting and talking, Dave noticed that many of the people outside were pointing and running. We jumped to the balcony to see a plane that had just crash landed in the ocean.


Oddly enough one of the others at the party had commented earlier about how dangerous those banner planes were.

Luckily, the pilot was able to touch down with minimal injuries to himself. He actually was able to walk away from the plane, although the lifeguards quickly assisted him.

For the next hour or so, we watched as the news media descended on the area. One even interviewed Dave's dad for the evening news. The authorities managed to pull the plane out of the water using a John Deer tractor. Then two lucky officers were able to spend their holiday guarding a plane, until it was taken away a few hours later.

Here is a news report on the crash. If you look hard enough in the second photo in the slide show, you can see me.

After that I enjoyed a fireworks display, hung out with some friends, and even had crazy story from Ryan's travels for a while. But really, it was all downhill after the plane hit the water.

Currently listening to: Bruce Springsteen -
Labels: Accidents, My Life, Photos
1 comments have been left. Where is your comment?
3.7.08
Get Back Honkey Cat
So the other night, my friend Dave told me he wanted to see more posts here on my blog. Quantity, not quality was his request, if I remember correctly. In order to appease him, I give you a brief summery of yesterday.

It started off by seeing Dave and his family off to their various work and school responsibilities. An hour later, I was picked up by a former coworker from BFA. We headed over to the California Grill for some breakfast and catching up. It was good to be able to talk about our old days in Germany. The cool thing was that he also worked in Korea for a time, so we were able to exchange stories about our different Korean experiences. It was an encouraging morning.

At noon, I was heading to Angel Stadium of Anaheim to watch a battle between the Oakland Athletics and the Los Angeles Angels of Anaheim. It was a beautiful day at the park, and I was sitting closer to the action than I have ever been. It sure beat sitting in the very top row of Minute Maid Park last year. Plus I had my Nolan Ryan Angles jersey on, not as I am so much a fan of the team, but a fan of my name on baseball jerseys.

Good times were had in the stands, enjoying the game, talking baseball and life, and cheering on the Angels. Sadly, the Athletics took the lead. Fortunately, the Rally Monkey came out and boy that little primate did his job. Minutes after the Rally Monkey appeared, Juan Rivera hit a two run homer to seal the victory.

At dinner we celebrated the Thompson's anniversary with the help of George Forman and his fine grilling skills. A couple Marie Callender pies finished out the meal.

So I headed to bed thinking what a great day this had been. As I slid my feet into bed, I felt a little moistness. My first thought was I had left my towel on the bed in the morning. Sadly, I was incorrect. The best I could deduct was that one of the cats had decided to mark his territory. Actually, it was more like he got trapped in the room when the pressure mounted. Not wanting to wake anyone, I decided to sleep on the floor. Later in the night, I found my way to the couch.

Dave did tell me that it never happens with their cats, but then again, he sounded like one of those parents who say their kids never act that way, when their kid acts up. Actually, I think he has told me that too. Ha. And in order to keep my lodging safe, have I mentioned Dave's new website and podcast?

Currently listening to: Coldplay -
Labels: Friends, My Life, Photos
1 comments have been left. Where is your comment?
30.6.08
Facts Are Facts
Jeff Reimer, a former coworker and still cool guy, dropped a meme on me the other day. While I was ready to post stories of adventure on the high seas, I decided to take care of this.
Here are the rules:
1. Link to your tagger and post these rules on your blog.
2. Share 7 facts about yourself on your blog, some random, some weird.
3. Tag 7 people at the end of your post by leaving their names as well as links to their blogs.
4. Let them know they are tagged by leaving a comment on their blog.

So the facts:
1. I have been to over thirty five countries, but have never crossed the equator.
2. Around the millennium, I won a Nokia cell phone of my choice from CNN. I picked the most expensive one they had. Only one or two calls were ever made from that phone.
3. I hate bananas more than any other food substance known to man.
4. The artist I have seen the most live is Bill Mallonee, with or without his Vigilantes of Love. I've attended two shows in Scotland, five in England, and over ten in Illinois, Indiana and Michigan. Before this current trip is over I will see him in California and Oregon.
5. I have three different valid drivers licenses. Oddly enough, I have also received a speeding ticket in three countries.
6. I have spent more time waiting in line for the Indiana Jones Adventure at Disneyland than I have ever spent watching any of the Indiana Jones movies.
7. One Easter many years ago, I was employed by a greeting card store to wear an Easter Bunny costume and pose for photos with children.

I do not think would be able to get seven people to actually follow this, so I am going to tag Jim, Mickie and Dave.

Currently listening to: Shawn Mullins -
1 comments have been left. Where is your comment?
17.6.08
Every Ship Must Sail Away
In the words of Styx, "I'm sailing away, , set an open course for the virgin sea.
I've got to be free, free to face the life thats ahead of me..." Yep kids, it is about time for me to set sail on the open seas. In a few hours I board a train heading to Pusan. There I will be taken to the freighter that I will call home for the next ten or so days. There have been times when I have wondered what in the world am I doing taking a freighter across the Pacific, but then there are times when I remember why I am doing it. Because I can. I long to stand on the deck and see nothing but open ocean. I am excited to see how people used to travel to far away places. Plus, I look forward to ten days when I can get some serious reading done.

Tonight I go to bed for the last time here in Korea. I am ready to wake up for the next adventure. Figure a container ship is a good start. See you all when I wash up on the other side of the ocean.

This xkcd comic pretty much sums up my feelings right now: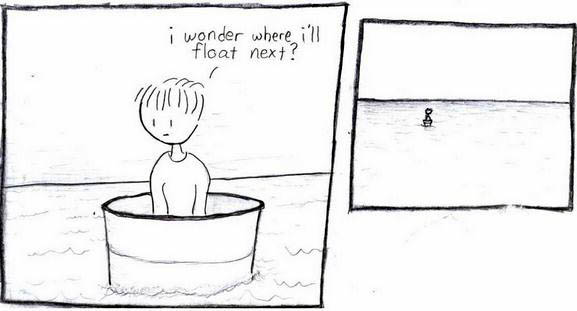 Currently listening to:

(not really, but how cool would that be?)

Labels: Freighter, Korea, My Life, Travel
1 comments have been left. Where is your comment?
15.6.08
Sister Christian The Time Has Come
I can now officially leave this country, even this continent. No it is not because the school no longer employs me. It has nothing to do with the fact my passport has been filled with enough Asian stamps. It all has to do with a simple photo that was taken yesterday on the Seoul subway system. Yep, I have acquired my photo with a group of Korean nuns. This will join my photo of me and the Italian nuns in my little collection of "me and the nuns" photos. And do not forget the classic, "Drinking Beer With A Nun" photo.




Currently listening to: Martyn Joseph -
Labels: Humor, My Life, Photos, Travel
2 comments have been left. Where is your comment?