RyanCordell.com
Blog
My Last 10 Posts
My Recently Played
My Photos and Videos
Blogs I Enjoy
Visitor Infomation
16.4.10
Big Wheels Keep On Turning


PhotoFriday this week has the theme Wheels. This is timely, as a couple days ago, my beloved 1989 Toyota Camry passed the 200,000 mile marker. That is around 8 trips around this planet we travel, or .8 of the distance to the moon.

Labels: My Life, Photo Friday, Photos, Travel
1 comments have been left. Where is your comment?
5.2.10
Dolphins Make Me Cry

Surfaces is the theme this week at PhotoFriday. While most probably will go with surfaces as a noun, I have decided to use it as a verb. This is yet another photo from my freighter trip. As we approached the California coast, the sea life came out, and put on a show. I watched as the dolphins played in the wake of the Hanjin Phoenix. A few even chose to race ahead of the ship in a game called bow riding. Here is some of my video of bow riding in action.

You can click on the photo to be taken to a larger image.

Labels: Freighter, Photo Friday, Photos, Travel
0 comments have been left. Where is your comment?
29.1.10
We Spotted The Ocean

PhotoFriday's theme this week is distant. Here is another shot from my freighter adventure. Nothing like being half way across the Pacific Ocean to make you realize how small you are.

Labels: Freighter, My Life, Photo Friday, Photos, Travel
1 comments have been left. Where is your comment?
22.1.10
Rock And Roll McDonalds

This week's theme over at PhotoFriday is Damaged.

This photo was taken last March near Galveston, Texas, seven months after Hurricane Ike struck. A few days before I took this photo, a good friend in Kansas called me up. He asked me one of my favorite questions, "You want to go on a road trip?" I would guess ninety percent of the time those words are uttered, I respond in the affirmative. The only reasons that would stop me is work schedules or the person has proven to be a horrible road companion in the past. This time it was a no-brainer. The only question I had was when and where? Well, he needed to make a trip down to Galveston to check out 1 Mission:Galveston and the possibility of taking his church's youth group down to help. Having some time on my hands, I told him I'd pack up the car and head west. A couple days we were on the road to the coast. I was shocked at the damage that remained when we arrived in the area. We lost count of the McDonald's sings that had been blown out. And while we joked about the damage to the golden arches, the destruction to homes was heartbreaking. At the same time, we met some amazing people who both were long time residents, as well as recent arrivals, who made it their mission to help rebuild the area around them.

It is amazing the good that mankind can do, when faced with adversity. It is something that we have seen on the news this past week. Sadly, it often takes disasters to really bring out the best in man. Sometimes, I wonder why we can't put our egos, selfishness, and attitudes away and help the less fortunate around us more often?

Labels: Friends, My Life, Photo Friday, Photos, Rants, Travel
1 comments have been left. Where is your comment?
15.1.10
Take The Long Way Home

Slowly is the theme at PhotoFriday this week.

After years of crossing both the Atlantic and Pacific oceans by airplanes, I decided to do something different on my final trip from Korea to America. After some online searching, I found a company where I could book passage on a freighter. Talk about slowing the trip down. What usually took me thirteen hours would take about thirteen days. To top it off, that only landed me on the coast. I then decided to take a train to make the final portion of the journey.

Would I do it again? In a heartbeat. Those days were some of the most relaxing days I have. I also enjoyed getting to know the crew and a little bit of their lives. Plus, I was able to drive the boat. Sure, it was only for a minute or so, but how many of you have had their hands on the steering wheel of a freighter? Didn't think so.

Labels: Freighter, My Life, Photo Friday, Photos, Travel
0 comments have been left. Where is your comment?
8.1.10
I've Wandered Much Further Today

The theme of PhotoFriday this week is Bed Time.

Three summers ago I had the opportunity to travel the rails from Beijing to Moscow. Our first stop was Ulan Bator, Mongolia. Having a few days to explore, we ended up heading out to the countryside to stay with some nomads. While we were there, we were able to ride camels, experience some of the local sports and music, as well as sample the traditional dishes. Oh, and we were able to participate in the milking of the mares. In fact it was the first milking of the year, so we even celebrated with Vodka and fermented mare's milk afterwards. Every night we were with them, we were able to sleep in a ger. Interestingly enough, even though we were hundred of miles from civilization among these nomads, they did provide us with Winnie The Pooh sheets and blankets on our bed. I'd say it made me feel like I was home, but I don't have a cool matching bed set with cartoon characters there.

Labels: My Life, Photo Friday, Photos, Travel
3 comments have been left. Where is your comment?
1.1.10
Hip To Be Square

This week the theme at PhotoFriday is Square. I did a quick scan of my photos and couldn't find any good ones of the rectangle with equal sides. I did how ever find one of the most famous square, Red Square in Moscow. I took this photo several years ago. Myself and two friends had taken the train from Beijing to Moscow during our summer break. After a couple days in the Russian capital, it was time to go our separate ways. One headed to Domodedovo International Airport for his flight and the other Sheremetyevo International Airport to wait for his flight. I rode the subway with them until they had to head off to different lines. Having another full night before my flight, I decided to wander down to Red Square for one final visit. We had been there a couple times during the previous days, but never in the evening. I was amazed at how beautiful it was at night. Even thought it appears to be early evening, this photo was taken right around midnight.

Labels: My Life, Photo Friday, Photos, Travel
1 comments have been left. Where is your comment?
20.11.09
Here In My Car

Vehicle is the theme at PhotoFriday this week. A couple years my friends laughed at me when I told them another friend was giving me his car. Not just any car, but a 1989 Toyota Camry. A car old enough, I could have been driving it when I got my license. Some were even betting that I would not make it across the state of California, let alone all the way back to Illinois. Well, over two years later, and many many miles down the road it still keeps on cruising. I recently had to replace the front tires after one blew, but such is life. While many would recommend never buying a car from a friend or relative, I would highly encourage accepting free cars. At least it has worked out well for me.

Labels: Friends, My Life, Photo Friday, Photos, Road Trip, Travel
0 comments have been left. Where is your comment?
11.9.09
The Weight Of The Cart

This week's theme at PhotoFriday is Fear.

I took this photo in the Hong Kong airport. I never saw electric carts as a threat, but now I fear them. You should too.

Labels: Photo Friday, Photos, Travel
0 comments have been left. Where is your comment?
24.7.09
A Watch On Our Shadows

This week's theme at PhotoFriday is "In Shadows." I took this earlier this week from the viewing deck of the Sunsphere in Knoxville, Tennessee. Twenty-seven years ago my family headed down for the World's Fair. I don't remember being able to go up to the top of the Sunsphere at the time due to long lines, but I am guessing it would have been shorter than took twenty-seven years.

As I looked down over Knoxville, I thought it might have been that trip almost three decades ago that started my crazy wandering around the globe. There on the streets of Knoxville, a young and impressionable boy was bumping shoulders with people from all over the world. I was witness to many countries showing off their best and brightest. I think those experiences might be some of the catalyst that prompted me to wander to over thirty-five countries to see first hand what each country has to offer. And for this, I am thankful.

Labels: My Life, Photo Friday, Photos, Travel
1 comments have been left. Where is your comment?
21.7.09
I Can Be Your Hero
On my long drive home, I decided to take a break in Metropolis, Illinois. Metropolis bills itself as the hometown of Superman, and have built a giant statue of him in the town square. At two hundred feet tall, it actually is an impressive piece of Americana. I spent a little time taking photos of the statue, and some of the other Superman related items in the area, before heading back out to the highway. Before I got there, I was sidelined by a historical marker pointing towards Fort Massac State Park. Not too excited about the next five hours of driving, I decided to do some wandering around.

As I entered the fort, I encountered four youth throwing rocks at the wall of the fort. I advised them that they might not want to be doing that, which they told me they were trying to knock a wasp nest down. Because of that information, I stressed even more the importance of not throwing rocks in that area. I then continued on wandering around the park and taking photos.

Upon walking back through the fort, my spidey-senses were set off. I noticed several of the glass windows had been shattered. I then recalled that one of the kids appeared to be using his shirt to carry a bunch of rocks. They were in one of the rooms of the fort and didn't hear me, as I passed by. I quickly looked in a couple of the other rooms, and noticed that there was glass on the floor near the broken windows, showing that they had been recently shattered.

Not having my phone, I approached a few adults in the area. I informed them that there might be some youth up to no good in the fort. I explained what I saw, and suggested that they might want to contact the local authorities. Before I could finish explaining, one of the adults got up and headed over to take care of business. I was informed that he was part of the local authorities, and would be able to handle it.

As I headed back to my car, I laughed a little, as I knew that I had helped stop some vandalism in Metropolis. Sure, Superman could have done it, but he was too busy posing for photos downtown. I guess some heroes wear their underwear under their pants. I drove off into the sunset feeling a bit like Reno Raines. Who knows where me and my crime fighting ways will end up next?

Labels: My Life, Random, Road Trip, Travel
3 comments have been left. Where is your comment?
18.7.09
Almost Heaven
I love the open road. Heck, I guess I enjoy just about any form of travel to be honest, but today the open road is what I'm loving. A couple days ago, I hopped in my 1989 Toyota Camry wagon and headed south. My destination was Winston-Salem, North Carolina, where two of my friends will be wed later today. So this gave me a excuse to load up the iPod, toss a bag of sunflower seeds in the seat next to me, and head out.

When I travel alone, I control the speed, where and when I stop for food, and most importantly the tunes. For the most part I keep the iPod on shuffle, and just skip the songs I don't feel like. Plus an episode of Car Talk is usually required for the longer trips. Occasionally, as song or artist is required for certain spots on the road. Yesterday, for example, as I entered West Virginia, I felt it was necessary to play John Denver's Take Me Home, Country Roads. As I had been behind the wheel for six hours, I thought it would also be a good idea to put the three versions of the song I had on a loop. For over thirty miles, it was a Country Road Sing-a-long in my car. When I hit the Hurricane, I decided it was time for a change. On a side note, who names a town Hurricane, especially when it is near enough for one to be of threat? It isn't like there is Tornado, Illinois, Wild Fire, Washington, or Epicenter, California.

As I had a specific destination and time of arrival, I didn't get to wander too far off the road too much. I did see Larry Bird's Bust in French Lick, Indiana. I was hoping to see the grave of Chang and Eng Bunker, but completely missed the exit. But I am hoping to do some wandering on the way back. Because a really good road trip, like life, is not about the destination, but the journey.

Labels: My Life, Road Trip, Travel
1 comments have been left. Where is your comment?
19.6.09
There's A Ship On The Ocean

Noisy is the theme this week at PhotoFriday. This photo was taken somewhere in the middle of the Pacific Ocean. It is the engine of the Hanjin Phoenix, a freighter ship that I had the opportunity to spend a couple weeks on. The engine room was one of the main areas that was off limits to my wanderings, but the chief engineer did give me a private tour. Unfortunately, it was so loud that I could barely understand half of what he was telling me about the machine.

Labels: Freighter, My Life, Photo Friday, Photos, Travel
0 comments have been left. Where is your comment?
20.3.09
The Egg Was A Bird


This week the theme at PhotoFriday is Edible. I had several photos of foods from around the world I have consumed, but figured I would go with what many might find one of the more disgusting items. This is some balut from my last trip to the Philippines. While it might not be the most appetizing images, it actually was a whole lot better than I expected.

Labels: Food, My Life, Photo Friday, Photos, Travel
0 comments have been left. Where is your comment?
13.3.09
You Can Hit The Highway

The Weekend is the theme at PhotoFriday this week. I have spent the last three four days sitting inside a vehicle watching the pavement pass by, and my weekend is looking like more of the same. I am not exactly sure which way I am heading, I just know I need to get home from this long road trip I am on.

Labels: My Life, Photo Friday, Photos, Travel
0 comments have been left. Where is your comment?
7.9.08
I Should Be On That Train And Gone
The time has come to once again say goodbye to California and all my friends out here. And once again, I am about to board a train heading east. It has been a good week out here, perhaps one of the best I have spent on this side of the continent. But every good thing must come to an end, and every new beginning comes from some other beginning's end. I am just not sure if this is some other beginning's end, or somewhere in the middle. Only time will tell.

But now, I must take the Mustang for one more good drive on the highway before I drop it off. Then it is a bus to Union Station, and a train to the middle of Illinois. Perhaps I will find someone near a train station with their Linksys open. Otherwise, I will post from the other side.
0 comments have been left. Where is your comment?
31.8.08
A Long Way Down The Holiday Road
Ah, Labor Day. Nothing like a holiday to make you really appreciate the fact you have not worked a day in the last two months. Just remember, the unemployed do not get days off. Luckily for me, I was able to make myself handy these last few days, as one of my friends from my Germany days needed someone to ride along to California. I told her to pick the route, and I would provide driving assistance, musical entertainment, as well as find a few places along the way to make the trip memorable.

So she picked a southern route with three overnight stops in Amarillo, Grand Canyon Village, and Las Vegas. Day one was basically a haul of a drive with little stopping. We did stop to see the second largest cross in the Western Hemisphere. Sadly we could not stay long due to the hundreds of mosquitoes that attacked us. A little later we found ourselves at the Big Texan, home of the famous 72 ounce steak. I could barely finish my twenty-one ounce steak, so I could not imagine attempting to down the ole 72.

Day two found the spray paint mentioned in the last post to find use as we visited the Cadillac Ranch. We left our marks, and then left the remaining spray paint for some Germans who were there checking out the place.
Later that day as we neared Flagstaff there was a stop I need to make. I wanted to stand on a corner in Winslow, Arizona, just to Take It Easy.

A couple hours later, we stood on the edge of the Grand Canyon to watch the sunset. As we stood there, I overheard one lady say, "I can't wait to get back home and see how this looks on the computer." Dang, what has this world come to? We stand on the edge of a beautiful scene and think about how this will look on our digital picture frame. By the way, doesn't this look great on your computer?
The final night of the trip found us in Vegas. And while many hold to the old adage of "What happens in Vegas, stays in Vegas," I will tell you at least one thing. I not only got to see Penn & Teller, but got my photo with them after the show.
And yes, they have now joined Nelson in the small number of celebrities I have given bunny ears to in photos.

Now I am sitting in Los Angeles for the next week, hanging with some old friends, making some new ones, and enjoying a fine little rental car I got.

Currently listening to: The Cars -
Labels: Friends, My Life, Photos, Road Trip, Travel
1 comments have been left. Where is your comment?
26.8.08
Going Back To Cali
Well kids, in the spirit of many males during the gold rush and L.L. Cool J, I am going back to Cali. A friend is moving out there and was looking for someone to help with the drive. My love for road trips and my current employment status have met in a perfect storm sort of way that will allow me to once again crisscross this great nation of ours.

Tonight we picked up some basic supplies for the trip: Candy, drinks, spray paint, crackers, apple sauce, and beef jerky. Then we went to find some ethnic food in the area. I am very happy to say I am stuffed with some of the best red curry I have had in a long time. At least I have that going for me.

See ya somewhere down the road.
1 comments have been left. Where is your comment?
31.7.08
The Midnight Train Going Anywhere
On a warm summer's evening on a train going nowhere I met up with this gambler. We were both too tired to sleep. We took turns staring out the window at the darkness, until boredom overtook us, and he began to speak.

OK, so my train ride did have the warm summer's evening, and often I was too tired to sleep, but no gambler came my way to impart words of wisdom before taking his final breath. Instead, I was seated next to the Staring Sisters. It felt like these two girls were taking turns keeping their gaze upon me. And when they were not staring, one of the girls would proceed to recline and upright the chair in front of me, the one that was attached to the tray table holding my laptop.

All in all, it was a good trip from Seattle. I met a couple decent people on the train. I had the smarts to stop at Pikes Place Market in Seattle to pick up some fresh fruit and snacks for the journey. This allowed me to avoid being taken for the high priced fare aboard. I was even able to scam some wireless internet signals at a couple stops.

It was all going well, until the night before Minneapolis, when we were informed that the train would not be going all the way to Chicago. Due to recent flooding in Wisconsin, the tracks were currently being worked on. The train would have to take a detour, but many passengers would have to take a bus from Minneapolis to Chicago. I was one of those chosen ones. But we were in luck, as Amtrak was generous and gave us a very posh bus to ride in. If that were only true, what they gave us was a cramped bus, a cake doughnut, and an eight ounce bottle of water. That, my friends, is service that will keep me coming back. A freakin' cake doughnut!

Well, we finally made it to Chicago, and were told to go to the baggage claim to get our bags. For some reason, I decided to check with a staff member about my checked bag, which in a real world would be transferred to my train to Bloomington. He informed me that only the earlier train to Bloomington had checked luggage service, and that my bag would arrive the next day. He did offer me a chance to get my bag, and so I found myself under the belly of Chicago's Union Station. It was an interesting place where few venture. Down there I met the men who get no thanks for getting the bags from train to baggage carousel. I found my bags, and proceeded back to the surface, only to discover I had about fifteen minutes to spare before my next train departed. No time for that slice of Chicago style pizza that I had hoped for.

Three hours later, I was at my parents' place trying to remember where they hid the spare key. It was found, a much needed shower soon followed, and now I am hit with the fact that the trip from Korea is finally over. It is a sadder thought than I expected, but at least it means that the next adventure is ready to be planned. Where to next?

Currently listening to:
3 comments have been left. Where is your comment?
25.7.08
Coming To America... Today
I am actually on American soil yet again. Currently I am sitting on a bus on the Canadian/American border waiting for all the people to clear customs. The bus is hot, as the air condition has not been turned on. And I am strategically sitting with the hope of having both seats to myself for the rest of the trip to Seattle. Plus there is wifi on the bus. How freakin' cool is that? Sadly, I was an idiot and left my iPod and headphones at my friends' house in Vancouver. So it is going to be a quiet ride.

There have been so many stories and adventures on this trip, and perhaps when I get back to Illinois I will share a few here. For now, check out my trip photos. I have a few more to add, but that only gives you a reason to keep checking back.

The aircon just kicked on, and it looks like me intimidating seating worked. Seattle, get ready for my arrival.

Currently listening to: My Last.Fm Neighborhood Station Thanks to free wifi on a bus and a extra set of headphones I found in my computer bag.
1 comments have been left. Where is your comment?
20.7.08
The Earth Was Last Night's Bed
I have spent the last few nights sleeping in a tent on Orcas Island. I came up here for a music festival, and now wonder why I never made it to this part of the world before. There will probably be a greater update on this portion of the trip, as well as the trip as a whole. (Don't worry Dave, I have not forgotten the freighter posts) But for now know that if it were my desire for a shower and a room with heat for the night, I would stay here a little longer. There is only so much that a pack of Wet-Wipes can do to keep you clean. And cheap me did not plan properly for the cold nights. The cheapest and lightest sleeping bag at Target is not always the best option. Luckily for me, Bill Mallonee offered my a spare bag for one night. (How about that for cool name dropping stories?)

So now I sit and wait for a ferry to Canada. Yep, time for another boat ride to another country. Perhaps I should start to see how many countries I can enter by sea. So far.. Ireland, England, Belgium, Greece, Japan, USA, Canada, South Korea and I think France. Not too bad start.

Labels: Music, My Life, Travel
1 comments have been left. Where is your comment?
21.6.08
Sailing Takes Me Away
The crew has informed me that if I do any of the following that I better hope that my God better be willing to do that fish thing again.

1. Play that blasted Gordon Lightfoot Shipwreck song one more time.
2. Stand on the front of the deck and scream, "I'm king of the world!" again.
3. Ask to watch Speed 2

Just joking. And I really am not posting from the boat, I just used the scheduled post feature of Blogger.

Labels: Freighter, Humor, Travel
1 comments have been left. Where is your comment?
17.6.08
Every Ship Must Sail Away
In the words of Styx, "I'm sailing away, , set an open course for the virgin sea.
I've got to be free, free to face the life thats ahead of me..." Yep kids, it is about time for me to set sail on the open seas. In a few hours I board a train heading to Pusan. There I will be taken to the freighter that I will call home for the next ten or so days. There have been times when I have wondered what in the world am I doing taking a freighter across the Pacific, but then there are times when I remember why I am doing it. Because I can. I long to stand on the deck and see nothing but open ocean. I am excited to see how people used to travel to far away places. Plus, I look forward to ten days when I can get some serious reading done.

Tonight I go to bed for the last time here in Korea. I am ready to wake up for the next adventure. Figure a container ship is a good start. See you all when I wash up on the other side of the ocean.

This xkcd comic pretty much sums up my feelings right now: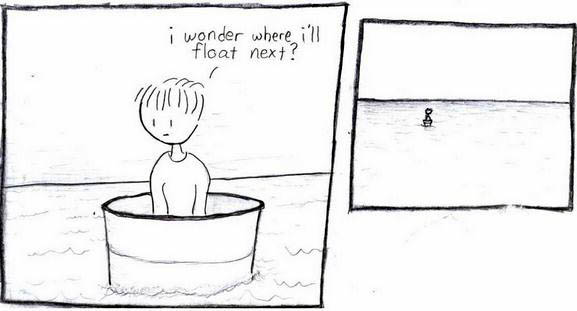 Currently listening to:

(not really, but how cool would that be?)

Labels: Freighter, Korea, My Life, Travel
1 comments have been left. Where is your comment?
15.6.08
Sister Christian The Time Has Come
I can now officially leave this country, even this continent. No it is not because the school no longer employs me. It has nothing to do with the fact my passport has been filled with enough Asian stamps. It all has to do with a simple photo that was taken yesterday on the Seoul subway system. Yep, I have acquired my photo with a group of Korean nuns. This will join my photo of me and the Italian nuns in my little collection of "me and the nuns" photos. And do not forget the classic, "Drinking Beer With A Nun" photo.




Currently listening to: Martyn Joseph -
Labels: Humor, My Life, Photos, Travel
2 comments have been left. Where is your comment?
13.6.08
Take Me To The Subway


Movement is the theme this week at PhotoFriday. I took this photo this week up in Seoul. I spent more time on the Seoul subway this week than I might have in the last two years. If I am right, I was on it for over three and a half hours on Tuesday alone. I am heading back up tomorrow for one last visit before my boat leaves this country in four days.

Labels: Korea, Photo Friday, Photos, Travel
0 comments have been left. Where is your comment?
3.6.08
Trains and Boats And Planes
Looking at the calendar, I notice that it is almost time for another potentially epic summer adventure to begin. The last couple summers I have been fortunate to see some amazing things, hang with some cool people, and do what I often love to do most, wander. This summer's schedule is set up to allow for some more of that. Here is my rough schedule for the summer:

June 17 (or 18)* - Depart Pusan, Korea aboard the Hanjin Phoenix
June 27 (or 28 or 29)* - Arrive Long Beach, California
July 8 - Fly to Sacramento, California
July 16 - Fly to Seattle, Washington
July 17-20 - Attend Woodsong Music Festival
July 21 - Ferry to Vancouver
July 25/6 - Seattle again
July 27 - Depart Seattle on the Empire Builder
July 29 - Arrive in Bloomington, Illinois
July 30 - Wake up in my parents house in Morton, Illinois

* I started writing this post yesterday, and already my departure and arrival dates have shifted. They could aways shift back. Guess that is the way of the seafaring vagabond.

If anyone in the Los Angeles, Sacramento, Seattle, or Vancouver area would like to hang out, drop me an email or comment. Depending on Amtrak's commitment to staying on schedule, I might even be able to grab dinner in Chicago with some fans.

Currently listening to: Laura Cantrell -
1 comments have been left. Where is your comment?
2.5.08
I'm Sailing Away
Today is Scurvy Awareness Day. What better day to announce that in a six weeks I will be taking to the open seas. I have chosen to schedule a voyage on a freighter to return to America. Many have question the logic in this decision. While a fraction of the choice was made in an attempt to never fly Northwest Airlines again, mostly it is because it is there. I have flown across the ocean dozens of times, but for once would love to see it first hand. I look forward to standing on the deck with nothing but blue for as far as the eye can see.

As I prepare for the voyage you can help. I am looking for suggestions for entertainment to occupy my time. Specifically, I'm looking for some good ocean/boat/voyage media. So far I have packed Moby Dick
and Cabin Boy
. I have also loaded Come Sail Away and Every Ship Must Sail Away on the iPod.

So any suggestions? (Beatings for the first to mention Titanic!)

Labels: Movies, Music, My Life, Travel
8 comments have been left. Where is your comment?
25.4.08
Lead Me To The Harbour


"Electricity" is the theme at PhotoFriday this week. This photo was taken last fall when I was in Hong Kong. Every night they put on an amazing light display in the harbour. I would love to know what the total electric bill to run the Symphony of Lights. I posted a video of the show on the YouTube.

Labels: Photo Friday, Photos, Travel
0 comments have been left. Where is your comment?
4.4.08
All This Wandering


"Far From Home" is the theme at PhotoFriday this week.

I have considered myself fortunate to be able to wander so far from the pumpkin fields of Morton, Illinois. There are hundreds of photos I could use to show myself "far from home" I picked this one, just because it is one of the more recent photos. It was taken in Subic Bay, Philippines, while I was in the area helping with a Habitat for Humanity building project.

To be honest, home is a concept I struggle more and more with. While many of my peers have a place to call home, I feel homeless. Sure there are places I know I can stay for long periods of time and feel comfortable, but a home I feel I lack. In some ways I would love to say because I am longing for a heavenly home, but I think it might have to deal with my ever need to wander.

This actually line of thought could fill a huge post, so for the time being, just enjoy the photo. As with every photo, it was so much better in real life.

Labels: My Life, Photo Friday, Photos, Travel
0 comments have been left. Where is your comment?
31.3.08
Just Another Brick In The Wall


I am back from the trip to the Philippines. It was an interesting week. The team made several thousand bricks. Unfortunately if you make them, you usually end up having to move them too. So we got to move a lot of bricks too. But it is good work, knowing that someone is a lot closer to a home because of our work. I am a big fan of Habitat For Humanity and the work they do.

It was not all work either. We got to see a dolphin show, learned jungle survival skills, and even got to see some cultural dancing.

I have posted many of the photos on my Flickr pages and a few videos on YouTube. Be sure to check them all out.

Currently listening to: Bon Iver -
Labels: My Life, Photos, Travel
0 comments have been left. Where is your comment?
20.3.08
Orion's Belt Is Shinin'
What a post that does not just include a photo with a short story? Yep, it is true, I have decided to post a little entry. I guess lately I just have not felt the stories of life have been worth posting online. Or have there been any stories at all?

But today I had a couple funny moments I thought I would share. Today has been a busy day, as I am about to leave for a week long trip to the Philippines to work with Habitat For Humanity. I also was hoping to get my taxes filed, and a few other tasks done. After doing laundry, I began to pack. During this process I decided to dress for the day. Figured I have plenty clean clothes to pick from. Unfortunately, I could not find my belt. I looked everywhere, but no luck. So I had to use a different belt. Skip ahead to a few hours later when I needed to use the facilities. I undo my belt, only to discover my pants did not loosen. Guess what? I found my other belt.

This afternoon we also had to escort the students to the train station, as the dorm staff does every weekend. As we left we got into a taxi cab, and gave him the location. He asked again, which usually is not a big deal here. We told him, and then he started entering it into his GPS device. The cab driver behind him walked up and asked him where he was looking to go. When our cabbie said our location, the other driver began to belittle him, explaining where it was, and listed every place in the area as landmarks. Our driver finally found it on his map, and tried to start the car. Surprisingly, it would not start when the gears were in the drive position. When he did get it started, his GPS unit reset itself. He began the tedious task of reprogramming the location. By this time, we could have made the trip twice. So I suggest we jump out and grab the taxi behind us. My coworkers said they would join me if I did, which is all I needed to hear. A few seconds later our new cab driver was telling us the other guy had only been driving five days. He had a good laugh about the whole thing, as did we. Ah, good times in foreign lands.

Perhaps I will bring some good stories back from the Philippines. I will at least bring back some photos and plenty of dried mango. Mmmmmmango.

Currently listening to: Bon Iver -
Labels: Korea, My Life, Travel
1 comments have been left. Where is your comment?
14.3.08
A Glimpse At The Good Life


PhotoFriday's theme this week is "The Good Life." You probably are wondering why a photo of the shore of Lake Baikal is a representation of the good life. Here is the simplified version of the story behind this photo:

I was traveling across Mongolia and Russia with two good friends. We stopped ended up in Port Baikal for the evening due to a mix-up out of our control. In the process we found ourselves on a hike with two complete strangers. As we walked along the train tracks outside of the desolated area, my brain began to play tricks on me. I wondered exactly why these two men had a large backpack and a full shopping bag. My brain was flashing thoughts about the Russian mafia and various ways tourists have been mugged. As the mist began to come down, and my blood was being pumped out by the thousand mosquitoes that surrounded me, I began to wonder if this was the end. Could this be where this crazy adventure of my life ends.

Our two guides then told us to walk ahead another kilometer to a train tunnel, look around for a while, and then return for dinner. We walked ahead to the tunnel, where two of us shared similar thoughts. After some laughter we returned to a campfire along the shore of the lake. The contents of the backpack and bag were being cooked over a fire for our consumption. Our guide had even made tea from various leaves he had collected along the walk. It might have been one of the best meals I have ever had.

Perhaps a little thought about death makes you realize how good life is. I was enjoying a meal beside a beautiful shore with two great friends in a part of the world I never imagined I would explore. That my friends is why I feel I have the good life. Good friends, good travels, good food, and a good God who has provided it all.

Labels: My Life, Photo Friday, Photos, Travel
1 comments have been left. Where is your comment?
26.2.08
Can't Drive 55
I was notified this week that a speeding ticket with my name on it arrived at my parents house. Guess while I was in Europe over the Christmas break, I was going a little too fast on the Swiss autobahn. Whoops. So now I get to make a nice donation to the Swiss economy. You would think they have enough money, and would not need my hard earned money. The least they could do was print my receipt out on some fine Swiss chocolate.

For those interested, my international driving record now looks like this:


Switzerland

- Two speeding tickets


Germany

- One speeding ticket


USA

- Two speeding tickets, one warning for driving in Georgia with a cracked windshield, and one warning for driving through Texas. Seriously, the officer told me there were more direct ways to get from California to Illinois. One minor accident.


Italy

- One completely wrecked automobile. I left it at the junkyard.


Korea

- One Ryan sized dent on a stranger's automobile.

Currently reading:
Labels: Accidents, My Life, Travel
2 comments have been left. Where is your comment?
31.1.08
If I Leave Here Tomorrow
There is part of me that wishes the tickets were dated for tomorrow. Alas, I meet the team in two hours to head to the airport. Don't get me wrong, I am excited about heading back to India. I just wish I could get a little more sleep, especially as we will have the fine entertainment system on Singapore Airlines. You do not want to miss that.

Honestly though, I am looking forward to returning to the orphanage. I think you can see by the smiles on the faces in my photos from previous trips, that the place is full of joy and love. It is too bad many of you could not join us to experience it firsthand. I have said it before, I think the kids are not the ones who get the most out of our visits. Often my mind and heart have been given a healthy dose of reality. I am not sure what God has in store for me on this trip, but I look forward to discovering it.

A few more items need to find their way into my luggage and I will be ready to roll. Speaking of rolling, enjoy this fun video of a rickshaw ride from last year's trip.

Currently listening to: Caedmon's Call -
Labels: India, My Life, Travel
1 comments have been left. Where is your comment?
28.1.08
Who Needs Sleep?
My sleep pattern has been goofy since returning from break. I know that the garbage man shows up at 4:30 most mornings. I know this not because he disturbs my sleep, but because often that is my sign that this body should really be in bed. I am just going to assume that it is my body just getting ready for the next adventure. In four days, I will be back in Bangalore, India. Right now it is 3:20 AM in Korea, but only 11:50 PM there. See, I am already on a good schedule. I am just in the wrong location.

Currently reading:
Labels: India, My Life, Travel
0 comments have been left. Where is your comment?
25.1.08
But Is It Fast Enough?


"The Machine" is the theme at PhotoFriday this week. Above is the 1989 Toyota Camry that was kindly donated to me this summer. Thanks Dave! I do not know if reasoning was as an easy way to get rid of the car, or because he secretly wanted me to end up broken down along the side of a highway. I was impressed with how well that car performed. It made it all the way from Los Angeles, CA to Marquette, MI without any issues. It did not even take the shortest route, much to the chagrin of a Texan police officer, who told me I should not be driving in his state. That was right before he did a thorough drug search of the car and those riding it in.

Now it sits in storage, awaiting the next big adventure. In fact, last night my dad was asking me if I thought it would make another trip to the west coast and back. Not sure, but I would be game to find out.

I also like this photo of the car, taken by one of my friends who decided to join me for a week of the road trip.

Labels: My Life, Photo Friday, Photos, Road Trip, Travel
1 comments have been left. Where is your comment?
12.1.08
Sitting Waiting Wishing
Dave, I waited right where you requested, but you never showed up. I do not know if I can trust you again.




I finally gave up and finished the rest of my trip. You and others, can see more of my photos on my Flickr pages.

Currently reading:
1 comments have been left. Where is your comment?
6.1.08
We Can Go Where We Want To
It has been great to be back in Europe again. It is great to be able to wander around Dublin or Basel without a map. It has also been fun to have people give reference points like statues to meet up at, and know exactly where they are talking about. I even had one friend give me the wrong address for the Indian diner, but I knew exactly where he meant. I have been asked by several people for directions, and have been able to point them in the right direction. The oddest request was a man who asked me how to get to Trinity College about a fifty yards from the entrance to the college. I pointed to the building right across the street, and laughed as he walked off.

Besides knowing my way around, I also feel at home with the German radio stations. It appears they have not changed their song lists since the day I left. I have actually heard "Anything For Love" by Meatloaf twice in the last two days of driving around the Black Forest. And when Men Without Hats told me, "I could leave my friends behind," I almost had to pull over to do the "Safety Dance." Makes me wonder why I even left this audio wonderland.

Labels: Germany, Music, My Life, Travel
3 comments have been left. Where is your comment?
26.12.07
Packing A Suitcase
I sit here waiting for my laundry to dry. I wonder why I always put packing off until the last possible moments. Even more so, I am curious how I ended up like this. I look at my siblings and those who grew up around me, and none have traveled to the extent that I have. Many would see it as a blessing, but there are times I would beg to disagree. Another country, another town, another frustrating language. Do not get me wrong, I am very thankful for the miles I have traveled, and even more so for those I have met along the way. But who else do you know that uses luggage as furniture? That nightstand by my bed is a suitcase. And my laundry bin is the Rubbermaid tub I shipped some of my stuff over in. I even have a collection of alarm clocks I have bought around the world, not because I collect them, but I end up forgetting to pack one. Which reminds me, I better pack one of those.

Well, the laundry is done. Must finish packing and try to get a little sleep. I do not want to miss Ratatouille and Fantastic 4: Rise of the Silver Surfer on the flight. At least on my return they are showing The Simpsons Movie and Stardust.

Currently listening to: The Frames -
0 comments have been left. Where is your comment?
21.12.07
Buy A Shiny Backpack
Ireland next week
Switzerland the following
Not too bad a break

Cheaper to fly there
Than most countries I checked on
Except for Japan.

Going to see The Frames
Playing a New Year's Eve gig
Should be a good show.

Got a rental car
To enjoy the autobahn
While in Germany.

Any Europe folk
Who want to meet up with me
Leave me a comment.

Currently watching:
Labels: Haiku Friday, Travel
0 comments have been left. Where is your comment?
30.11.07
How Does It Feel When You're Alone

"Dead of Night" is the theme at PhotoFriday this week. This was taken two summers ago in Moscow. My friends had left for the airport, and I decided to wander around Red Square at midnight. One of my favorite activities when I travel is to wander major cities in the middle of night. A city changes so much when all the activity dies down, and the locals all go home. There is something about wandering around streets that are usually full of activity, but at the time are deserted. One can get the feeling of being the only survivor in a ghost town. Plus, you can save a few bucks on lodging that way.

Labels: Photo Friday, Photos, Travel
1 comments have been left. Where is your comment?
16.11.07
Picture Yourself On A Train In A Station

"Travel" is the theme at PhotoFriday this week. This might be the toughest theme for me to narrow down. Having passed through over thirty five countries, how do you pick one photo from all those adventures? I chose this photo of the Basel SBB train station. It has been a starting, ending, or midway stop to some of my greatest adventures. From here I started several ski trips into Switzerland. I pass through here three times on a fifteen day, fifteen country trek across Europe. Even on my summer of riding the Trans-Siberian railroad, I managed to pass through the SBB. On that trip, I arrived and found a place to store my luggage. Ten minutes later I entered one of my favorite churches, only to miss the first song of the morning service.

I look forward to my next time through that fine station.

Labels: Photo Friday, Photos, Travel
1 comments have been left. Where is your comment?
4.10.07
It's A Small World After All
Last week, I had the opportunity to go to Hong Kong Disneyland Resort. I decided to go to the park during a torrential rain storm with the hopes many would stay at home. This allowed me the opportunity to ride Space Mountain about six times in a half hour. I completely lost count of the number of times I rode Buzz Lightyear's Astro Blasters ride. I know I rode it enough to come to the conclusion that 273700 is a pretty decent score. I am also glad that I was able to visit the park before they installed the Small World ride. I think the ten minute wait at Autopia, the "hey I'm driving a car that is on a track" ride, was the longest of the day. I even had time to catch all the shows, as well as get my photo taken with all the characters.

I have been fortunate enough to walk down Main Street U.S.A. in Paris and Hong Kong. There is something interesting about visiting the Disney parks overseas. Everything feels very familiar, yet there is a foreign feel as well. Usually this is made most clear during the stage shows. All the characters are the same, but they sound so different. I'm not talking about pitch, but the language they speak. You expect to hear Mickey greet you in English, but when he is speaking in French or Cantonese it messes with your mind. Too me, it actually make me think of the many people who come to America to see the Disney parks. They might not understand the language, but they know the entertainment we have exported around the world. And in the end, freakishly large animals dancing around a stage is always good family fun.

Mickey And Friends In Cantonese



Currently listening to: Aimee Mann -
Labels: My Life, Travel, Video
1 comments have been left. Where is your comment?
1.10.07
Sheets On A Hong Kong Bed
I know some of you were beginning to wonder if there would be another real post, and not just those stupid haikus and photos every Friday. To be honest, I was beginning to wonder myself. It felt like life had gotten pretty routine and boring. Last week, however, I set out like Columbus, Magellan, Vasco De Gama, and other explorers of old looking for new worlds to explore, exotic foods to consume, and stories to post on their blogs. I have returned scurvy free and full of stories.

Today I tell the tale of the Hostel from Hades. After doing some research online, I booked the cheapest one I could find. For those unaccustomed to hostel life, this is not always the wisest move. But how bad can a place be if it is located between the Holiday Inn and the Imperial Hotel, and only a block from the Sheraton? Plus with a name like Chungking Mansion, it has to be good.

As I checked in, the guy looked at me and said, "You are big guy, the room is small. This could be a problem." Fearing that this might be the only bed he has, or that he would try to upgrade me for more money, I told him it should be a problem. A minute later I realized I could be wrong. He opened the door to the closet which held the bunk bed I would be sleeping on that night. I am telling the truth that when I was spread out on the bed, my head and feet hit two of the walls. I could touch the other walls with my elbows. At least the mirror made the room feel a little bigger.

After a rough night jammed in that room, I headed out on the town. When I got back later that night, I discovered someone was sleeping on my bed. I went out to the office to discover that they had moved my luggage out and I was getting a new room on the eleventh floor. This one was better. It actually had a bathroom attached, and space to breath. Even the air conditioner appeared to work. I woke up that next morning refreshed and ready for the day.

Interestingly enough, when I returned to the room about two hours later, I found that I was being moved to yet another room. The guy claimed that they were working on the air conditioner, and that he had a room back on the third floor. The room had the space and even had the bathroom attached. Too bad it did not have a toilet seat. But hey, I have traveled this world enough to deal with that. What I was not prepared for was sharing the room with people who have no desire to enjoy cool air, or air flow for that matter, during the night. For the rest of the week, battles were fought for the control of the air conditioning. At one point, one of my roommates felt it would be better to have the windows open, allowing the hot, humid air to permeate to room. With that hot air came the sounds of one of the busiest streets in Hong Kong.

In the end, I can not complain much, as my week in the hostel cost less than a fourth of what one night at the Holiday Inn would have cost. Heck, spending eight hours in the parking lot of the Holiday Inn would have cost me more than the hostel for the week. So would I do it again, perhaps. But next time I might pack my own toilet seat.

Currently listening to: KT Tunstall -
Labels: My Life, Photos, Travel
1 comments have been left. Where is your comment?